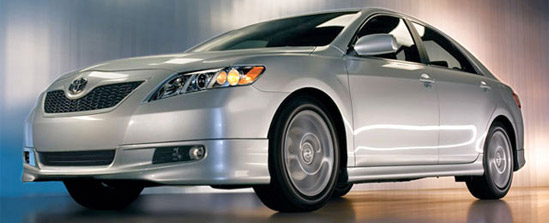 XM Satellite Radio announced today that the ever popular Toyota Camry will now offer satellite radio as a factory installed option. The news is noteworthy in that the Camry is the best selling car in America, but tempered by slow overall auto sales, and the fact that it will be standard only on Camry's with the premium audio package.
The program will begin with 2010 model year production, and XM anticipates that Toyota will have over 1,000,000 satellite equipped vehicles on the road by the end of 2009. In reading the press release, it may be easy for people to jump to a conclusion that Toyota will have 1,000,000 installations this year. This does not seem to be the case at all. While Toyota has been involved with SDARS for a couple of years now, the penetration rate has been quite low. On the positive side, the fact that Toyota is ramping up with the Camry bodes well for the future of the OEM channel, as other manufactures will need to follow suit to compete with what has become a very popular model line.
"The increased availability of XM services on the 2010 Camry is a testament to our relationship with Toyota," said Jim Meyer, President, Operations and Sales, SIRIUS XM Radio. "We are thrilled that Camry buyers will now be able to experience commercial-free music from every genre, plus sports, news, talk and entertainment, as well as 'The Best of SIRIUS.'"
In addition to XM satellite radio, XM NavTraffic will be standard equipment on all Camry models with navigation. XM and XM NavTraffic are already available on the Toyota Corolla, Matrix, and Venza, as well as on the Lexus LS 460 and LS 600h L models, the LX 570, the newly launched 2010 RX 350, and the upcoming 2010 RX 450h.
"The addition of XM and XM NavTraffic as fully integrated services in the Camry reflects Toyota's focus on enhancing the driving experience for our customers, and is another step toward providing more advanced choices for entertainment and convenience in our vehicles," said Jon Bucci, TMS vice president, Advanced Technology Department.
Every Toyota and Lexus vehicle equipped with factory-installed XM comes with a minimum three-month trial subscription to the available XM services on new vehicle purchases. Investors should understand that trial periods in Toyota and Lexus vehicles are not counted as subscribers. It is only after the trial period, and if a customer becomes self paying, that they enter the subscriber roles.
Position: Long Sirius XM Radio