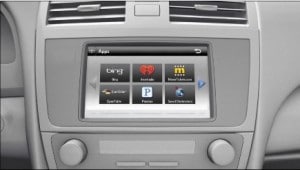 Ever since experiencing Entune at the New York auto show earlier this year I have been waiting for this announcement.  At the time I was allowed to play around with the EnTune interface final details between Toyota and Sirius XM (NASDAQ:SIRI) had not been finalized, but it was clear that the automaker was attracted to the accessory services and technology offered by Sirius XM.
Sirius XM Radio and Toyota Motor Sales U.S.A. have announced that they will automatically give a 3-year subscription to SiriusXM data services, featuring fuel prices, traffic data, weather forecasts, sports updates, and stock information to customers purchasing select Model Year 2012 Toyota Camry vehicles equipped with Toyota's new multimedia system with Entune™.  The 2012 Toyota Camry is the first Toyota vehicle with these advanced features offered by SiriusXM.
The best news here for Sirius XM investors is the fact that the Camry is a staple in the auto sector and this could apply pressure to other automakers to follow suit.  Services like this were once reserved for higher end vehicles, which represented fewer sales.
"Toyota has included satellite radio in its vehicles since 2004 and we are delighted that they have decided to bundle three years of information services into select Camry vehicles.  These services include fuel prices, traffic data and weather delivered by SiriusXM," said Steve Cook, Group Vice President and General Manager, Automotive Division, SiriusXM.  "This is an advanced feature from SiriusXM that drivers will find helpful and use daily, and we are thrilled to work with Toyota to give customers the best in-vehicle experience available on the road."
Financial details of the deal were not disclosed, but it is apparent that Sirius XM is receiving at least some revenue for their services, and could likely build new higher paying subscriptions directly with the consumer when the three year term runs out.
"Giving our customers the opportunity to experience satellite radio and data services from SiriusXM, including the option to find the best gas prices from over 100,000 fuel stations nationwide, enhances the experience of driving Toyota vehicles equipped with a state of the art product like Entune," said Jon Bucci, Vice President, Advanced Technology Department, Toyota Motor Sales U.S.A."
Toyota drivers and passengers using data services from SiriusXM will have access to key SiriusXM data features, including:
Fuel Prices:  SiriusXM gives customers pricing drawn from more than 100,000 fuel stations nationwide, and the ability to sort by price, distance or alphabetically.
Traffic Data:  SiriusXM delivers real-time traffic speed and flow data with accident and incident information to all users to bypass congested areas.
Weather:  SiriusXM shows coast-to-coast weather data, current conditions, three-day forecasts and warns of inclement weather in your area.
Sports:  SiriusXM provides scores and game schedules from the MLB, NFL, NBA and NHL.
Stocks:  Customers can track price and daily changes of actively reported securities traded on the NYSE®, NASDAQ® and AMEX®.
Investors should note that this deal does not mean that these Camry's will be three year additions to the subscriber numbers.  Toyota will continue to give customers purchasing new Toyota vehicles equipped with satellite radio a 3-month SiriusXM subscription.  These promotional subscriptions are what we here at SiriusBuzz term as "trailing" subscriptions.  This means that these vehicles are not counted in the subscriber metric unless the consumer elects to become self-paying after the promotional period.
While the news is great, there are a few pieces of information that also need to be digested by consumers and investors.  EnTune also prominently features Pandora as well as Clear Channels iHeartRadio.  This puts Sirius Xm in direct competition within the dashboard space with competing audio entertainment options.  Because of the fact that Sirius XM data services will be available for three years, the satellite radio provider can stay in front of the consumer.  It would be interesting to see the take rate of Sirius XM when they have these competitors right there in the dashboard with them.  Time will tell.
Position - Long Sirius XM Radio