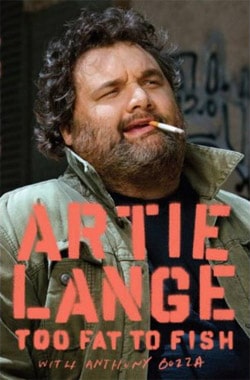 Artie Lange has once again proved to American children across these great states, that anything really is possible. With his first book being described as "Outrageous, raw, and painfully funny true stories straight from the life of the actor, comedian, and much-loved cast member of The Howard Stern Show ", Artie Lange has snagged the #1 spot on the New York Times Best Sellers List.
Artie is a true man's man storytelling genius but, lets not get the reason why this book debuted at number one twisted. People like to question the power of Howard Stern since moving to Sirius but make no mistake about it, without Howard this book doesn't go straight to number one… hell it probably would have never been written in the first place.
If you are looking for an affordable gift that any fan of Artie or the Stern Show would love this holiday season, look no further then Too Fat To Fish on sale now for only $13.72 (45% off!). Just in case you missed Artie on his late night circuit book tour, we have the videos of his interviews on Letterman, Conan O'Brien, and Jimmy Kimmel right in the forums.