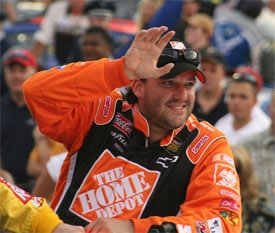 Sirius announced today that the Tony Stewart Live talk show, hosted by two-time NASCAR Sprint Cup Series Champion Tony Stewart and veteran broadcaster Matt Yocum, will return for its second season on Sirius NASCAR Radio on Monday, February 4th (8:00 pm - 10:00 pm ET).
All you dizzy NASCAR fans should also note that the weekly program has moved to Monday nights from last year's Tuesday night time slot. The two-hour show airs on Sirius NASCAR Radio (ch. 128), throughout the season and features Stewart and Yocum taking calls from listeners, talking with prominent guests and covering the spectrum of motorsports.
Congrats on the renewal Smoke, those Stewie's must have been a big hit!