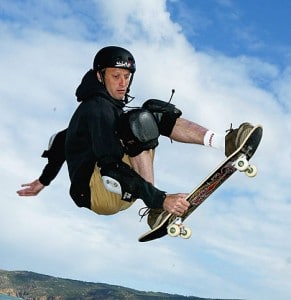 SiriusXM Radio (NASDAQ: SIRI) has announced that action sports icon and SiriusXM host Tony Hawk will sit down for an exclusive, live Q&A session with an audience of SiriusXM listeners at the SiriusXM studios in New York City. This is a continuation of a series that features some of the hottest stars in an intimate setting talking it up with a select group of lucky listeners.
"SiriusXM's Town Hall with Tony Hawk" will air live on Faction, channel 41, on Monday, September 10 at 7:00 pm ET.   Faction is also home to Tony Hawk's regular show on SiriusXM.  The special will be hosted by skateboarder and director Stacy Peralta, director of Bones Brigade: An Autobiography, which is scheduled to be released on November 2, 2012.
While the company has not confirmed it, this is exactly the kind of compelling content that SiriusXM subscribers can expect with the company's On-Demand service, meaning that you can actually catch the show when it best fits your schedule!
The special will feature the legendary skateboarder and host of SiriusXM's Tony Hawk's Demolition Radio answering a variety of questions from the studio audience about his career as a skateboarder, his life's work of building skateparks for underprivileged communities and more.
"I'm looking forward to talking with the live audience and answering questions with Stacy," said Tony Hawk. "I'm proud to be a part of his new documentary and I hope to enlighten fans about our history together and the evolution of action sports in general.