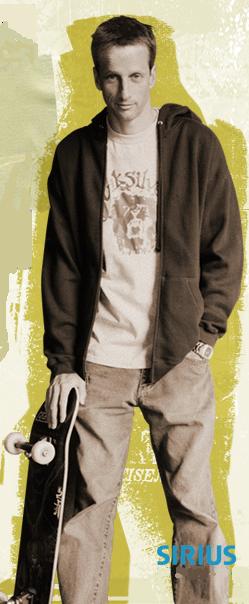 Professional skateboarding icon Tony Hawk has submitted a letter to the FCC offering his support for the merger between Sirius and XM. Tony Hawk hosts Demolition Radio on Sirius' Faction channel 28, a show dedicated to the skateboarding lifestyle, and the music that sets the pace for enthusiatsts of boarding.
In his letter Hawk speaks to the age of his fans, and the fat that a-la-carte programming will offer a price point accessible to those fans. Diversity of content is often characterized along ethnic lines. The fact of the matter is that diversity goes well beyond an ethnic background. Diverse content also includes musical taste and lifestyle. In Hawks opinion, better price points will enable consumers to find th programming they desire on satellite radio at a price they can afford.
Hawk states, "While these new choices will benefit all subscribers, they may be especially important to young listeners who are looking for innovative music and talk programming geared toward their interests, but who are also on limited budgets. With some packages available for as little as $6.99 a month after the merger, some young consumers may be able to afford satellite radio once this merger is finalized."
Hawks opinion illustrates forward and broader thinking, and does away with the narrow thinking status quo. The marketplace is more than just satellite radio. It is audio entertainment. Diversity is more than ethnic lines, it is about content that goes beyond mainstream. Pricing is more than the price per channel. It is about the ability to get what you want for a reasonable price, and not having to pay for undesired content.
Hawk joins a growing list of celebrity talent that have voiced support of the proposed merger between Sirius and XM.
Position - Long Sirius, Long XM