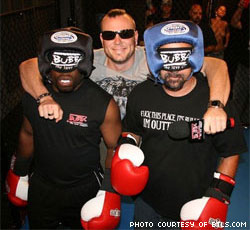 As readers are aware, Tom The Tree Man, an intern with the Bubba The Love Sponge Show was fired from his job as a Utilities Technician for the Water Department in the city of Pinellas Park Florida.
The brew-ha-ha started after Tom Parmentier (The Tree Man) participated in wacky stunts as part of Bubba Raw. Bubba Raw is a subscription website operated by Sirius Satellite Radio shock jock Bubba The Love Sponge.
Since his firing, the subject has been relatively quiet on the show, perhaps due to legal reasons as Tom decides his course of action against the city. Not all is quiet though. One fan started a website dedicated to getting Tom his job back. The website has a catchy name....SaveTheTreeMan.com
The site informs readers of the situation, and even includes an on-line Tom The Tree Man Petition that so far has fifty signatures. Since it is unlikely that Bubba will be able to address the issue on the air, or round up the troops of the Bubba Army, we thought we would bring attention to the site and the petition here.
Whether you agree with the stunts or not, Tom The Tree Man was not on city time when he performed them, and he in no way was acting as a representative for the City. In fact, the show had never even disclosed Parmentier's real name on the air. If you see fit, give the SaveTheTreeMan website a visit and give consideration to signing the petition. No matter what the results, we here at Sirius Buzz wish Tom Parmentier the best.