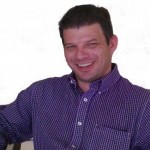 Wow!  Many that follow the company closely were aware of the SiriusXM (NASDAQ:SIRI) desire to continue to pay down or refinance debt, but this announcement, the day after the Q2 earnings call took the market by surprise.  I must say that I was anticipating this action to be somewhere toward the end of the year.  This is great news announced at a pivotal moment that will establish a new outlook on SiriusXM going forward.
Of particular note is that the debt SiriusXM is targeting is the high interest 13% notes due in 2013.  Certainly the company will have to pay a premium in order to accomplish this deal, but it is well worth it.  Between the anticipated closing of the of the retirement of the $186 million in 9.75% notes due in 2015, and the retirement/refinancing of the $681 million in 13% notes, the debt picture at Sirius XM could become very interesting!
This would perhaps lead us to believe that SiriusXM, once these transactions are complete, would have only $2.45 billion in debt with much of it due between 3 and 10 years out!  This is down from nearly $2.9 billion in debt issues that the company currently has (bear in mind that they have announced that they will pay of $186 million very soon).  Interestingly management has stated that they desire a 3 to 1 debt to EBITDA ratio.  That is where they are now without the nearly $868 million that seems to be in the pipeline for repayment or refinancing.  Consider Debt at only $2.45 billion and anticipated EBITDA for 2013 of at least $1.05 billion and you can see that the ratio would be at an impressive 2.33.  The ratio improves drastically if Sirius XM guides to 2013 that is even higher.  It is little wonder why Moody's upgraded SiriusXM today. I would say that it could be possible that SiriusXM adds to the offering in order to try to tackle even more debt if they get a good response.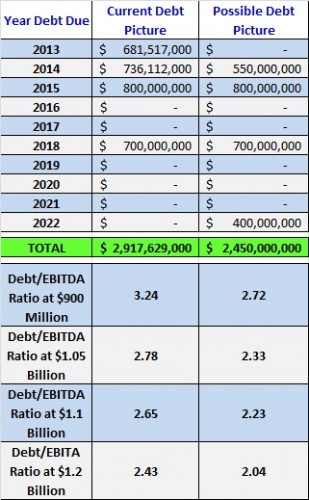 Interestingly, Liberty Media expressed in its conference call today that they felt SiriusXM was under leveraged.  I received an email inquiring about whether the ratio should be NET Debt or Gross Debt.  As an aside, I think the confusion in this rests with some of the statements made b the company in the past vs. what they have presented in events such as the shareholder meeting.  I have been using gross debt when I discuss these issues.  The company referenced gross debt in the latest call.  The essential difference is that having a 3 to 1 ratio on gross debt is better than the same ratio on net debt.
Liberty Media has made statements about SiriusXM being under leveraged even when the gross debt to EBITDA ratio was above 3.5.  The importance here is that Liberty seems to carry the belief that perhaps a 4 to 1 ratio is better.  SiriusXM stated that they were comfortable at 3 to 1.  If SiriusXM gets below 3 to one then the side align in the thought that the company is under leveraged.  That could open the door for negotiation.  A key element here is that SiriusXM outlined the reasons for this latest offering and did not limit the offering to just the 13% notes.  This gives wiggle room to increase the offering for a newly developing corporate purpose.
While some of this is speculation, after listening to Liberty today, and seeing its desire to exact back about $1 billion in cash in a transaction, it is possible that SiriusXM and Liberty could be closer to some terms that reach a deal than they were previously.  Essentially, a deal could be accomplished that levers SiriusXM back up to a ratio between 3 to 1 and 4 to 1 while making the costs of debt more friendly and  completing a deal that allows SiriusXM to get the weight of a massive shareholder off of its back.  Again, this is a lot of speculation.
This afternoon I will offer up a technical update that looks more deeply into how the news today impacts the equity.  Check back!
On another side note, Radio Wars, the documentary movie about satellite radio is up for the best documentary at the New York City International Film Festival.  Radio Wars will be screening on Saturday, August 11,2012 at the Abingdon Theater at 9:00 PM.  Myself and others that appeared in the film will be on hand to answer questions.  Tickets are just $8, so come on out and make an evening of it!