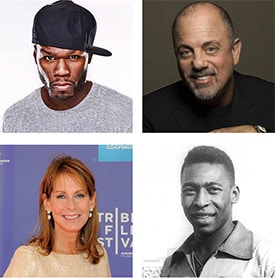 This week on SiriusXM will kick off tonight at 8pm with a special Town Hall featuring rapper 50 Cent. The show can be heard on Shade 45, where 50 will discuss, promote, and give listeners a sneak peak of his upcoming album, Animal Ambition, which is scheduled for release on June 3, 2014. Rebroadcast tomorrow at Noon and OnDemand.
Billy Joel's special limited engagement channel will continue to play on channel 4, despite the outrage from 40's on 4 fans. The channel will feature interviews, obscure cuts, and previously unavailable tracks from his earliest days and will run until June 25th.
Starting tomorrow, April 1st (not a joke) at 11am, veteran journalist Perri Peltz will take to the air with her new show for working women and mothers, focusing on women's daily victories and challenges. The show will air every Tuesday on SiriusXM Stars (ch. 106).
On Wednesday April 2 at 6pm soccer legend Pele will sit down and answer some questions in a special Town Hall event on SiriusXM FC (ch. 94). The event will be moderated by longtime Pele broadcaster Seamus Martin. As with all Town Hall events, a replay can be found OnDemand.