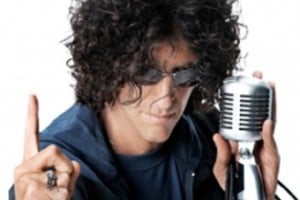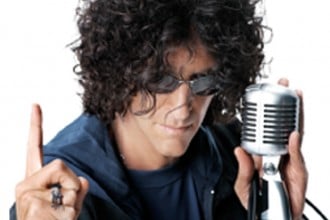 When people talk about satellite radio, the name Howard Stern almost always arises. Whether you like him or not, Stern is a radio and media icon who's influence on entertainment can not be doubted. Some look at Howard with a jaundiced eye because of his edgy style, but he is much more than that. His boisterous fans who clamor to every bit or sketch are joined by many "closet" fans who enjoy his show on their commute, but never admit to listening to him.
How does Howard Stern command such a vast audience from such a wide spectrum of people? The answer is that he posses an ingrained talent to balance edgy content with informative discussion. He looks at life through a humorous prism, and for a few hours a day, allows some to laugh out loud while others curiously listen from the sidelines. Howard has an uncanny ability to bring out the most from his interviews, and shed a little light on aspects of his guests that no other interview brings out. The great thing about him is that you are compelled to tune in because you don't want to miss radio gold like his interview with Paul McCartney.
When Howard Stern signed with Sirius Satellite Radio there was huge discussion about whether the cost was worth it. Stern fans loved the move while detractors labeled him as washed up, and over the hill. In the end, it was Howard Stern, and not the NFL, NASCAR, Eminem, or Martha Stewart that delivered subscribers in huge numbers to Sirius. Even in the face of a huge boost in subscriptions, some claimed that he was not the major factor in Sirius' sudden growth.
Fast forward a few years, and Sirius would merge with XM. As part of the merger, an upgrade in packages would be offered. Sirius subscribers could buy the Best of XM, and XM subscribers the Best of Sirius. As of June 2009, the merged company had roughly 19 million subscribers. Of those subscribers, roughly 15 million are self paying. Roughly 5% (748,000) of the self paying subscriber base has elected to pay a premium to get the " Best Of" the other package. The interesting statistic is that 544,000 XM subs have opted for the "Best Of Sirius", while only 204,000 Sirius subscribers have opted for the "Best Of XM". This translates to the "Best Of Sirius" package getting 73% of the "Best Of" market!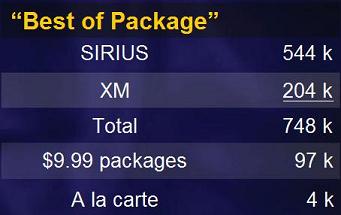 Is the gap between the two "Best Of" packages attributable to football? Not likely. These numbers are growing outside football season. Is NASCAR the answer. Again, not likely. Nor is Martha. The major draw for the "Best Of" package is Howard Stern. Perhaps if Major League baseball were to become a part of the "Best Of XM" package there would be some boost to the XM side of the house, but given that the NFL has yet to carry a big impact in the other direction is telling, and would point to modest gains in the "Best Of XM" package if it were offered. I am sure that die-hard Opie & Anthony fans will want to cry foul and label Stern as a "has-been", but the numbers speak quite clearly. Stern is far from a has been, and will continue to be a major draw, even with a four day work week.
Howard Stern's current deal expires about eighteen months from now. Before the end of 2009, the grumbling about whether or not he will return will become more and more newsworthy, even in the mainstream media. Stern will attract coverage that other name talent on SDARS has not. When Ellen left XM, there was no story about it on Entertainment tonight, or Fox News. Howard garners that kind of coverage, and he will forever be linked closely with satellite radio.
The fact of the matter is that Howard Stern carries a lot of cache. While Sirius XM could survive without him, having him on board makes things much easier. When he left terrestrial, a vacuum was created. terrestrial radio has survived, but they indeed missed him. For the entertainment world, the most serious question is not where Howard goes, but whether or not he retires. If Howard stays in radio, Sirius XM will have to put a competitive number on the table. If he retires, satellite radio will have already had the chance to expose subscribers to all of the incredible content Sirius XM has to offer.
Stern is a compelling differentiator in media. The numbers bear it out. His career bears it out. Whether someone wants to admit it or not, an edgy Howard Stern in hand is better than an edgy Howard Stern elsewhere. Howard still has influence, and has a great deal more influence than people really comprehend.
Position - Long Sirius XM