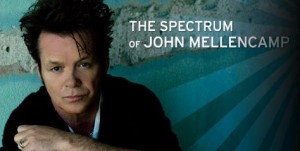 Little ditty 'bout a a rock icon that has spanned decades. Whether you know him as John Cougar Mellencamp, John Cougar, or John Mellencamp, you are likely familiar with his music. He has had top hits over the past 30 years that are far more than a flash in the pan, and with a timeless style, his songs enjoy airplay on a regular basis.
For a limited time, The Spectrum (channel 18) on Sirius will become The Spectrum Of John Mellencamp. This is an opportunity for fans to get their S50's and Stilettos set to record some unique pieces. The special dedicated channel marks the release of John's new album Life, Death, Love and Freedom. Tune into The Spectrum to hear music, which will also feature rare performances hand-picked by Mellencamp himself from his personal archives, as well as playing music from some of his favorite artists.
Specials such as this often let listeners get an insight into artists, and Mellencamps presence on The Spectrum is no different. Listen along as John shares stories and personal insights about the many classic songs that helped define his 30-year career in music. Mellencamp also gives a personal introduction to select tracks off his latest album, Life, Death, Love and Freedom, which was released on July 15.
Position - Long SIRI