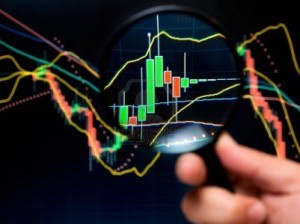 Ever feel like you're stuck and no matter what you do you can't seem to move?  What typically happens is that the moment you become free you lurch out like a rocket then fall down and collapse to gain your breath and composure   Within a few minutes you are back up and raring to go.  SiriusXM is currently stuck in a trading range.  There is nothing you or I can do about it.  We simply need to wait and see if we can predict the moment that this equity frees itself.  Will it be the next conference call?  Will it be after that when analysts revisit their respective models.
Right now SiriusXM enjoys some pretty lofty analyst expectations.  Some targets are even over $4 per share.  What we need to bear in mind is that most of these projects came out prior to the company releasing guidance.  Analysts that have been more recently adjusting models have been below $4.00.  The dynamic here is that "UPGRADES" that sometimes help drive a stock are now more difficult to obtain.  Even when the company announces great Q4 metrics, many analysts can not really justify an upgrade.  The valuation is already rich.
I write about this not to be a downer but rather to get you as an investor thinking.  SiriusXM has great upside potential, but it will be a process to get there.  Bear that in mind.
Volume
Volume today was light with just 30 million shares changing hands.  As stated, this is an indication of a lack of strength to the upside and a lack of strength to the downside.  We are in a battleground that in my opinion has a bullish longer term bias.
What we want to see is this equity make a move on increasing volume.  Whether that move is up or down matters little to a savvy active trader.  For longs the downside risk is protected by EMA's and support levels above $3.00.  Essentially it will be equally as hard for this equity to test the $2's and it will be to test $3.25.  It is not difficult to get to either level, but not easy either.  A dip into the $2's would mean a breakdown of some sort relating to the financials of the company or concerns about growth and valuation.  I do not really see that happening.
Support and Resistance
Look at this chart closely because there are a few notable changes.  There is good support above $3 and strong support just below.  There is not a ton of resistance above, but it is not a cakewalk either.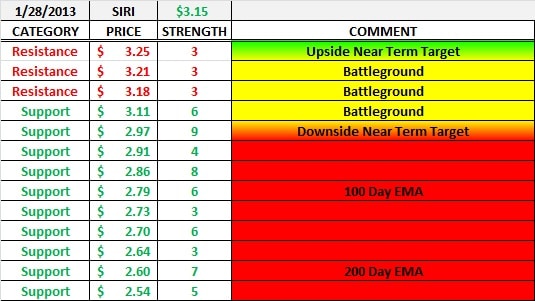 The big changes are that key support is now at $2.97 with the level above at $3.11 gaining strength.  There is a noticeable gap in support between $3.11 and $2.97.  That gap could develop a new level at $3.06, so bear that in mind.  What we want to see is SIRI hold the line above $3.10 and preferably keep above $3.14 so as not to develop a caution flag on the EMA chart.
Exponential Moving Averages - EMA's
I am watching these closely now.  the 5 day EMA is just below the current level and sits at $3.14.  Just below that at $3.12 is the 13 day EMA.  The 20 day sits at $3.09.  Can you see how important $3.10 is?  If this equity closes at $3.08 (I do not see that happening tomorrow) we will instantly have 3 caution flags.  My opinion is that this equity is looking to make an upside pop soon.  It may not happen before the call, but I see it wanting to stretch and take on $3.20 in a serious way.  From there the movement is dependent on the call.  Meyer is a wild card at this point.  The street has to get used to him.
Keep an eye on volume and key levels.  Holding above $3.15 is what we want.  If we do not do that we want to hold the line at $3.10.