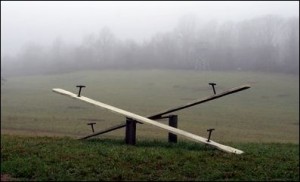 With yet another trading week past us, we have more data to consider, more news to contemplate, a new week ahead.  Oh the joy that SiriusXM (NASDAQ:SIRI) provides.   In yesterdays analysis I had indicated that I saw SiriusXM on a drifting course down toward $2.40.  I also stated that the upward battle would be at $2.56.  This is not at all about playing both sides of the fence or hedging. It is about weighing all of the data and trying to project a future outcome.  I still maintain that a drift downward is in the cards, and the lack of getting above resistance at $2.56 gives me added confidence in my assessment.
What we are seeing is a consolidation of sorts more so than a retracement.  SiriusXM is trying to find a comfort zone and we could see that in the trading action today.  We are seeing a see-saw effect with this equity, but the trend is lower lows.  Until that behavior subsides it is my contention that SIRI is still an equity adrift...At least in the short term.
Volume
The volume on SiriusXM was slightly higher than the previous day, but still below the 200 day average volume I like to use as an overall barometer.  To me this points to consolidation and a lack of confidence in a move in either direction with the more recent short term trend being down.

What we would like to see is SiriusXM keep decent volume happening and then gauge a move with the assistance of a boost in volume.  For longs we do not mind seeing a trend down as long as it does not happen on big volume.  This see-saw trading can be frustrating, but it does allow you the luxury of time to plan and refine your potential moves.
Support And Resistance
I have made a few minor changes in support and resistance.  First I added a new, very weak resistance level at $2.70.  SiriusXM has not tested this level yet, but with weak resistance throughout the $2.60's, I wanted to establish another upward point of reference.  The second change was that I added another point to the resistance level at $2.56.  SiriusXM was unable to even test that level which indicates that there is more strength there than meets the eye.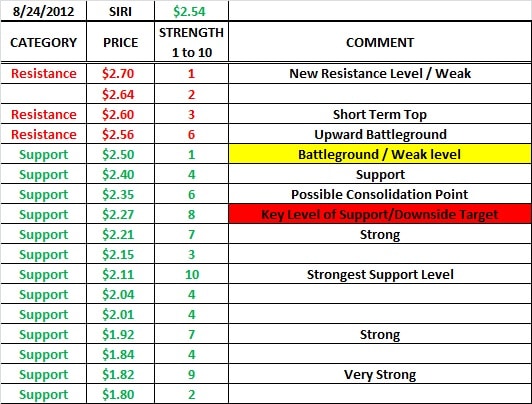 The key here is that SiriusXM failed to pass $2.56, and the next support level with any strength is $2.40.  Because SiriusXM has see-sawed for two days above and below $2.50, I have very little confidence in that level being able to hold as support or be a significant resistance should the equity drift below it.  $2.56 is the upward test, and $2.50, as a sentimental level is the immediate downward test and battleground.  $2.40 is the direction I would say this equity is still headed.
Exponential Moving Averages - EMA's
This is where I see my biggest short term cautions developing.  While SiriusXM did erase a red signal in the EMA chart at the 5 day moving average, it only did so by the skin of its proverbial teeth.  In addition, we lost another penny between the 5 day and 13 day averages, which is a continued erosion.  Again, this does not mean an overall bullish trend is gone, it simply means that SiriusXM may well take a well deserved breather.  The right news may send this equity upward once again.  I simply do not see the right news on the immediate horizon.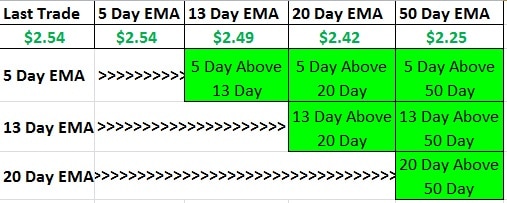 The key with EMA's now is a close above $2.54.  A savvy investor will also see that Sirius XM has tested below the 13 day EMA of $2.49.  Here is the caution flag.  If SiriusXM closes below $2.54 it will generate a red sign at the 5 day moving average.  If it closes below $2.49 it will signal that the 13 day will not hold and the 20 day is the next stop.  That happens to be just above $2.40.
Summary
This seesaw effect has not yet established a bottom or a top that have any real significance.  That makes active trading a challenge.  If someone is o the sidelines, they are waiting for a clearer signal.  The same could be considered true for the investor that likes to play with some shares above and beyond their core position.  I still see $2.40 as the short term trend with a smaller potential for a battle at $2.56.  Monday will give us more to work with.