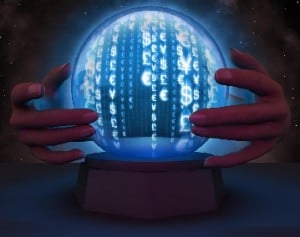 Okay.  The market has had a chance to digest the news, and the big spike appears to have been an after hours event that we all wish we could have sold into.  Such is life!  The important factor is where we go from here.  SiriusXM traded on moderate to heavy volume today and essentially did not move very far away from the close of $2.91 on Friday.  There was no real test of $2.95, a resistance level that has been established for quite some time.  There was also no real test of $2.85, a recent support level.  What we may have here is a step up and a new consolidation area.  It is still a little to early to tell, but we should know soon enough.
This technical report is a daily feature of SiriusBuzz Premium where members get detailed insight throughout the week.  This particular report is being offered to all readers as a Thank You, and to expose you to the depth and quality of our service.  Simply stated the insights that SiriusBuzz Premium members get are not available anywhere else.
The mock account saw a couple of trades today.  A sale in Pre-Market at $2.96, and a sale just after the open at $2.87.  The mock account is green and there is now some cash to work with at the right moment.  The key here is to have a strategy moving forward with both bullish and bearish plans in place.  Remember, long term I am bullish, which is why I have a core position.  We simply want to add to the core or add to the cash!  More on that below.
Volume
Volume was heavy, but not as heavy as I would have liked to see.  The lack of testing $2.95 on heavy volume is a bit telling in my opinion.  In my mind it will now take volume over 100 million shares to give $3.00 a serious run.  Of course, the right news could deliver that in spades so we need to keep our proverbial fingers on the pulse.  The volume today can be the beginnings of representing a crest in the equity.  Tomorrow will be very telling.  If we see volume taper off, then the equity has likely crested for the time being.

What we are looking for in identifying a crest is volume of about 70 million or less.  This does not mean that the equity will crash, it simply means that it is taking a breather.  If you are attentive and savvy you can take advantage of this.  At first blush it appears that the new trading range will be between $2.85 and $2.95.  Watch the volume closely at $2.90 and $2.95.
Support and Resistance
There are some changes in this chart.  The first notable one is that the battleground area has shifted upward.  For the time being it appears that a new range will develop between $2.85 and $2.95 with a narrower range between $2.90 and $2.95.  Bear in mind that this does not mean that this equity will not fall outside those ranges on news.  They key levels in my opinion are $2.85, $2.90, and $2.95.  What we want to see is if the equity bounces off of these levels and what type of volume we see if these levels are taken out.  A move with strength requires that we have pretty substantial volume.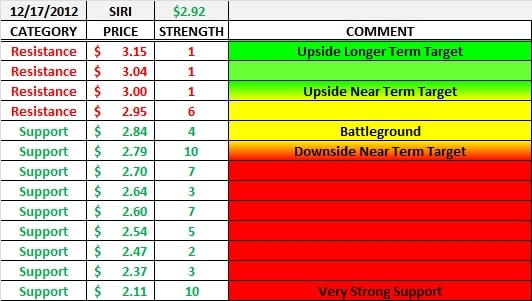 Other critical levels you want to keep on your radar screen are $2.79 and $3.00.  Always keep an eye on a couple of levels away from the current price and have a strategy at the ready.  This is why daily monitoring is so critical to successful trading.  The goal is to anticipate the moves.  Longer term traders can pretty much relax.  Active traders need to signals.  Anyone can call a move of SIRI to $3.25 or more in 2013.  We want to call the 5 and 10 cent moves as best we can and develop strategies to play those if we so desire.
Exponential Moving Averages - EMA's
The EMA's are finally spreading out a bit.  These averages were wound quite tightly and I had been indicating that news could cause a dramatic effect.  We saw it happen Friday.  We now have a little room between the averages, and that gives us some data and detail to work with.  Over the past few weeks SiriusXM has been seesawing between bullish and bearish short term stances.  Caution flags have appeared and vanished.  Warning flags have come and gone.  All of this pointing to consolidation that was screaming to make a move.  The move happened and members were hopefully ready with their respective strategies.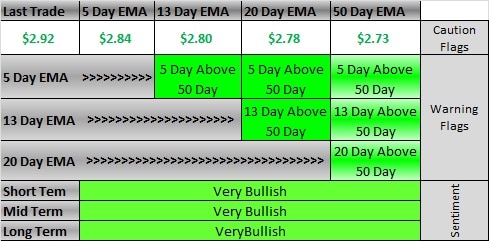 In order to remain bullish we need to see this equity hold the line at $2.84 or better.  The good news is that there is a support level already established at $2.85 and the equity closed up at $2.91.  As with anything, keep your eyes on the ball.  The key tomorrow is that $2.89 holds and that we see volume dry up slowly.  Fast moves could be dangerous to an active trader.  One note to bear in mind is that the royalty decision may be enough to have a few analysts revisit their respective models.  I do not see any possible negatives from analysts, and there is a possible chance that a few might revise the cost side of their models a bit.  Time will tell, but keep it in mind as it could be something that crosses the news wire in the coming days.
Mock Account
If you are a long time reader you are aware that I have shares in SiriusXM.  You may also be aware that I typically do not trade the equity actively.  I did quit well buying a decade ago and selling in the Stern run-up and am simply sitting on the shares that I did not sell.  However, I have established a mock account to set some sort of example of how one might trade this equity on a more active basis.  Rather than just making calls on the equity this mock account shows a very traceable history for readers.  You do not need me to tell you the performance and perhaps take liberty with that opinion.  The mock account will show it.  No one is right all of the time.  The key is being right most of the time.  This mock account was established about 3 weeks ago and is currently up $121.  Trading strategy below: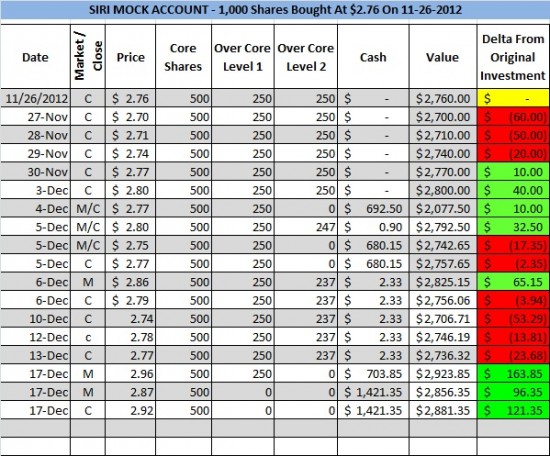 Okay, time to set up my strategy.  I like to have a few strategies in play that cover the good and the bad.  With just over $1,400 in cash I have some dry powder to work with.  To me it looks like SIRI is setting up a new consolidation range and is perhaps cresting here in the short term.  I want to take advantage of the possibilities.  I am a buyer if SiriusXM passes $2.95 on very strong volume (what will equate to 100 million shares).  I am a buyer if volume is weak (what would equate to under 40 million shares) and the equity dips below $2.87 and bounces off of that level immediately.  What I see as more likely is that there will be a bit more consolidation.  I leave core alone unless we see heavy volume and this equity break $2.80.