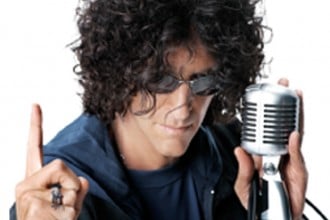 It was a bit over six years ago when The King Of All Media signed a blockbuster deal with Sirius Satellite Radio. At that time, the economy was on good footing and Sirius and XM were competing for content deals as if their companies depended on it. Stern negotiated a $500 million deal that brought two channels worth of content including Scott Ferrall, Bubba The Love Sponge, and more. The move was an instant success for Sirius, and delivered subscriber records for the next year while Stern wrapped up his contract with terrestrial radio.
The five year deal is set to expire at the end of this year and the question on everyone's mind is whether or not Stern will sign a new deal. A lot has transpired since the original deal. The economy is not in good shape, Sirius and XM have merged, and the competitive landscape looks much more different now than it did years ago. With all of that being said, I think Stern will sign again with satellite radio. Now the question is what that will mean.
Sterns second coming will deliver stability to Sirius XM, and has a real potential to once again deliver subscriber numbers that will boost the company to levels that should pass 20 million with ease and by a healthy margin. By signing with satellite again, Stern will be giving his confirmation that the medium is here to stay, and all seeds of doubt about the viability of satellite radio. It is one thing for an upstart company to sign a talent like Stern once, it is a more significant event to sign him to a second deal. When that happens it will tell all of the detractors left that satellite radio is not only here to stay, but can keep and even bring in the type of content that differentiates satellite from any other media company.
Over the past week Mel Karmazin has been meeting with Sterns agent Don Buchwald. Buchwald is the cream of the crop when it comes to the world of media. He does not waste time with face to face meetings unless negotiations have progressed to a point that merit going over the final details. Combine this with the fact that Stern is on vacation this week, and it seems like a good bet that Sirius XM and Stern could be putting the final touches on a new deal. Some speculate that a deal is already done, but if that were the case, an 8K would have been filed announcing the news. The likely situation is that Stern, Buchwald and Karmazin are hammering out details now, and that we could see an announcement earlier than most anticipate. Karmazin stated at the Q2 conference call that the company hoped to have news on the deal prior to the Q3 conference call (early November).
Stern signing is validation, and could be the impetus for not only a second wave of subscribers, but also an event that will let the street know that the stability of this company is rock solid. With Sirius XM revisiting the sub $1.00 range, news of the second coming of Stern may be just the event needed to boost the stock. Yet another reason an announcement may come sooner rather than later is that retailers are preparing their orders right now for the holiday season. Most retailers main question in figuring out how many satellite radios they want is whether or not Stern will stay with the company. That question is coming up more and more often. By getting Stern signed now, and announcing it, a good fall selling season can be assured.
Will Stern sign again? My belief is that he will, and the deal will allow for availability of Stern on mobile devices. That will drive Sirius XM Internet Radio into a new realm that will boost revenue. The Sirius XM Internet Radio option costs $2.99 per month. many Stern fans that have held back from grabbing the Sirius XM Internet Radio option could well come on board now, meaning better ARPU.
The second coming of Stern means more to Sirius XM than most people realize. Love him or hate him, he has cache, and keeping him on satellite would be a coupe. Watch for news soon.
Position - Long Sirius XM Radio