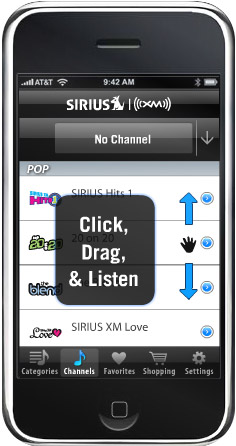 You have waited patiently for 11 long months, been forced to read countless articles about it's release, and even watched a home grown Sirius XM app that was ready to go 5 months ago get squashed like a bug but, all of that is over now… the official Sirius XM iPhone is actually available today, for the first time, via the iPhone App Store.
At first glance there is a lot we can learn from the new SiriusXM.com iPhone information page, most importantly that they are offering a free 7 day trial for all new listeners and that the application itself is FREE, something we all knew would be important from the get go. That being said, there are quite a few things that I don't think a lot of people we necessarily expecting.
The first thing that should jump out at readers is that the new iPhone application is only available in the United States. One would have to assume that this is because of royalty fees and regulations at this point, similar to those that have plagued the international availability of other Internet Radio companies but, it will no doubt be disappointing to those people outside of the country who have been so eagerly awaiting the release.
The most shocking thing about the new iPhone may not be the 120 available channels but instead, the channels which are NOT available. The list astonishingly includes MLB® Play-by-Play, NFL Play-by-Play, SIRIUS NASCAR® Radio, and Howard Stern! How could the person who Sirius XM cites as being responsible for bringing in more subscriptions then anyone else not be part of this application? As we sit and wait for more news this is certainly something that will have both investors and subscribers alike scratching their heads disbelief.
Update: The reviews are already flowing into the iPhone app page dedicated to Sirius XM on iTunes and it has not gone without notice that Howard Stern is not available. People are, shall we say, less then pleased. A quick search of twitter for the terms "Sirius Howard iPhone" should give you an idea of the tone being used in the emails which are already flooding into my inbox.
For more information readers can visit siriusxm.com which has apparently, for the time being, been transformed into a stand alone promotional website for the iPhone application