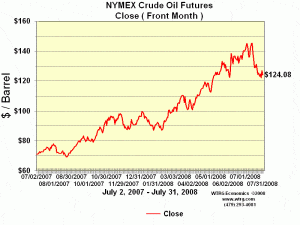 July auto sales were released today, and yes there is no way around it, they were expected to be bad and they were! The markets reaction of complete surprise however, is laughable. The world now seems convinced that Detroit will not survive and that people will be riding bicycles through the brutal New England winters!
A year ago the big three sold big trucks for big money. Is it any wonder revenues are down? I think not. Ford truck sales fell 22.5 percent. Demand for SUVs dropped 54.4 percent. Sales of crossover vehicles fell 4.4 percent and demand for Ford's F-Series pickups plummeted 54.2 percent to 8,873 vehicles.
They have now learned to sell small cars for small money. Ford car sales rose 1.4 percent to 60,755 and demand for the Ford Focus jumped 15.6 percent to 15,200 units, while sales of the Ford Fusion rose 13.5 percent to 10,607.
So how bad is it? So far this year, Ford sales are down 14.2 percent to 1.3 million vehicles from 1.5 million at the same time last year. Read that again...Ford sold 1.3 million vehicles this year. The focus is not on the 1.3 million they've sold, but rather the 200,000 less they did not. The fact is cars are selling and with the increased penetration rates of SDARS the losses in the auto sector only slow the growth of satellite radio; it has not yet shown any indication of reversing that growth.
As for GM, it is my personal opinion that any slowdown from them is good for Sirius Xm, as I have never liked the money losing proposition that Xm maintained with GM. It should certainly help the bottom line. Hopefully, the day will come when Sirius can renegotiate that contract to be more beneficial to both GM and Sirius Xm.
The market seems to be employing scare tactics and I sit in wonder of the day-trader mentality that has taken over and replaced long term investing. Current auto sales are running at about a 12.7 million annual rate, after factoring in July auto sales. The beginning of July brought with it the highest oil prices on record, followed by a near 25.00 per barrel decline which analysts seem to think will continue. As oil prices come down, gas prices come down, more cars are sold and more jobs are created... and that is good for Satellite radio and investors with the ability to look ahead.