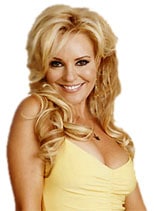 Starting tomorrow morning the Playboy Radio channel 198 will debut a new show staring Hugh Hefner's girlfriend and co-star of the popular television show "The Girls Next Door," Bridget Marquardt.
The show titled "The Bridget & Wednesday Friday Show" is set to air live every Friday morning and will feature "Bridget's insider tales of life at the Playboy Mansion as well as her adventures with Hef, Holly and Kendra"…sounds juicy.
If you are wondering who "Wednesday" is, he is her Pekingese. You read that right, Bridget's dog will be the co-host on the show. I'd love to just make a mockery of this whole idea but, the fact that Bridget has her Master's degree in Communications gives her enough credibility that I will have to at least listen before I judge.