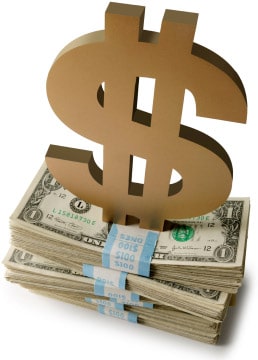 Last week I started a $100,000 mock portfolio dedicated to media stocks.  The purpose of this portfolio is to provide readers with accountable mock trades that offer up meat and potatoes rather than simple statements that have no accountability.  All to often I see "trade" recommendations that are hollow by virtue that they exist in a vacuum.  People will bring out their "winning" trades and ignore the "losers" in between.  It is called "selective recall"  If they speak about their "winners" often enough perhaps their "losers" will get lost in the shuffle.  Additionally stock trades do not exist in a vacuum.  Blaming "losers" on the economy here in the states, the global economy, "market manipulation", or anything else is simply a strategy of shifting blame elsewhere when any investment MUST consider all of these things.  How often can we blame down days on "manipulators" without learning something in the process?  It is like that friend that always has stories of winning at the casino.  He holds up $1,000 that he just "won" at the casino today while ignoring the $7,000 he lost over the past few months.  A mock portfolio allows readers to track successes and failures in their full glory.
I opened this mock media portfolio on November 10th with the following trades:
Beginning Cash balance = $100,000
Sell Short 1,000 shares of Pandora (NYSE:P) at $14.81
Gain $14,810.00 – $15 Commission = Balance $114,795.00
Buy 10,000 shares of Sirius XM (NASDAQ:SIRI) at $1.69
Cost $16,900.00 – $15 Commission = Balance $97,880.00
Buy 5,000 shares Cumulus (NASDAQ:CMLS) at $2.93
Cost $14,650.00 – $15 Commission = Balance $83,215
Sell Short 250 shares of Netflix (NASDAQ:NFLX) at $85.12
Gain $21,280.00 – $15 commission = Balance $104,480.00
Over the weekend I reviewed my portfolio and have a few trades as well as a company to track.  The following is an update of my portfolio.
Buy to cover my short position of 250 shares in Netflix (NASDAQ:NFLX) @ $87.75.  This trade will cost $21,938 plus $15 in commissions for a total of $21,953.  The cash balance in my portfolio will go to $82,527.  The loss on this trade was ($688).  I decided to close this short because the company seems to be having a bit of resiliency that is playing out.  I will monitor Netflix and possibly initiate a new trade when the odds of a successful trade improve.
Buy to cover my short position of 1,000 shares in Pandora (NYSE:P) @ $13.75.  This trade will cost $13,750 plus $15 in commissions for a total of $13,765.  The cash balance in my portfolio will go to $68,762.  The profit on this trade was $1,030, helping to absorb the loss in the Netflix trade with some profit left over.  I closed this position because I gained over 7% in one day.  It represented a winner, and an upward correction could happen at any time.  Pandora has been trading between $10 and $16 for quite some time and is a traders dream.  making 5% in either direction in a matter of a day or two can be a wonderful thing.  My strategy is to be in or out prior to any reversal, and to see the next leg before initiating another trade.  Ultimately Pandora will not be so volatile, but that volatility presents opportunity.
My Sirius XM position remains in tact with 10,000 shares bought at $1.69.  With the stock now at $1.70 I am up about $70 including a commission on the buy and a commission if I were to sell.  There is nothing to get excited about yet here.  Sirius XM is in a range of its own.  While I believe there is potential for a pop, I also see another dime or so on the downside as a possibility.  I will hold this and monitor to find a stronger signal one way or the other.
My position of 5,000 shares of Cumulus (NASDAQ:CMLS) remains in tact.  The equity closed at $3.00 representing $0.07 to the upside on this trade.  Including commissions in and out I would be at a $350 profit at this point.
I am buying 500 shares of Walt Disney Company (NYSE:DIS) at $36.70.  This trade will cost $18,350 plus a $15 commission for a total of $18,365.  This will bring my cash balance down to $50,397.  I believe that Disney has some room to make a run toward their 52 week high of just over $44.  While I missed the most recent 6% pop, I am confident that my downside risk is minimal.
I am adding Emmis Communications (NASDAQ:EMMS) to my watch list.  The company is up over 15% on news that they will be buying back preferred shares.  Was the 15% too much of a pop?  I think so, but it will be interesting to watch.
Considering all of these trades, my portfolio now has a balance of  $50,397.  The value of my equities sits at $50,350.  This brings my portfolio value to $100,747 for a 0.74% gain (including commissions) in one trading day.  I still have a substantial cash position that will allow for the ability to initiate more trades should the market dictate.   While the one day performance may not seem impressive, a gain is a gain, and I feel confident in my decisions (even the loss in Netflix) thus far.