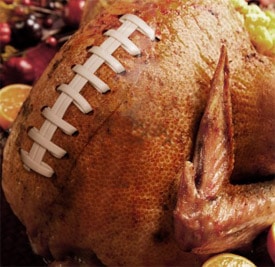 Sirius XM has something for everyone this holiday weekend, whether your looking for live music or sports, they're ready to take some of the stress out of your day. They even have celebrity chefs on Martha Stewart radio ready to handle any turkey day dilemma the 21st-23rd from 7am-5pm.
Thursday
NFL Live
12:30 pm Green Bay Packers @ Detroit Lions SIRI 92 | SIRI 86
4:15 pm Miami Dolphins @ Dallas Cowboys SIRI 92 | SIRI 86
8:20 pm San Francisco 49ers @ Baltimore Ravens SIRI 92 | SIRI 86
Lady Antebellum Takin' The Wheel Thanksgiving Weekend
Lady A takes over The Highway (ch. 59) as they celebrate the group's Own The Night arena tour and album. They will play their biggest hits, songs from their albums and and what you can expect on their new tour.
Thanksgiving Jimmy Buffett Concerts
Starting at 6am and running all day, Radio Margaritaville (ch. 24) will feature multi-course feast of Jimmy Buffett concerts along with a traditional serving of Arlo Guthrie's classic Alice's Restaurant Massacree.
Friday
Pearl Jam Live in Mexico City
This tour brought the band up and down the Western Hemisphere, from Argentina to Canada, and you'll be able to hear the entire final show exclusively on Pearl Jam Radio at 2pm (ch. 22).
Black Label Friday with Zakk Wylde
The guitar legend will be on Liquid Metal (ch. 40) every hour playing music from his band Black Label Society, including three new festive Christmas tracks available now on their E.P. Glorious Christmas Songs That Will Make Your Black Label Heart Feel Good.
Saturday
Wiz Khalifa Exclusive Live Concert
Hip-Hop Nation brings you an exclusive concert captured live from Sound Academy in Toronto, Canada. Wiz will be performing his hits "Black & Yellow," "Roll Up," and more at 8pm (ch. 44).
Sunday
Jimi Hendrix's "If 6 Were 9 Birthday"
Sunday, would have been Jimi Hendrix's 69th birthday. Classic Vinyl (ch. 26) celebrates the life of rock's most revolutionary guitarist, featuring the "Star Spangled Banner" plus other live and rare tracks starting at 6am.
For the entire lineup checkout the full list on Sirius XM.