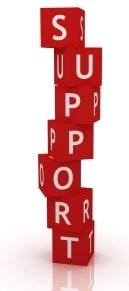 If you are here and reading this, welcome to the first installment of many on SiriusBuzz Premium.  Premium members will get regularly updated technical information and much more.  Many detailed articles that you might have previously found on Seeking Alpha will now be here, back home, where they belong  All in a hassle free environment with all of the drama removed.  Again, Welcome.  In addition to the SiriusXM technicals, I will begin some work on Liberty Media as well.
Yesterday evening, after the close, Liberty Media (NASDAQ:LMCA) announced that they had made open market purchases of some 40 million shares taking its stake up to about 48.8% of the company.  This announcement actually explained a lot in the recent behavior of SiriusXM (NASDAQ:SIRI) and the technicals.
Volume
As regular readers know, I am a huge fan of watching volume.  It was an even more interesting story when we consider Liberty media's recent moves.  For Friday, Monday, and Tuesday, the Liberty Media transactions accounted for about 45% of the overall volume in SiriusXM.  It is amazing that Liberty was able to account for such a substantial chunk of the volume without moving the price upward.  Part of this explanation is that it actually served to stop SiriusXM from going downward as was expected by many.
Volume today was lighter than average, but even with that we may not be able to rule out Liberty Media action.  With the stealthy buying Libery has been doing it is almost invisible to the casual observer.  The one hint that I saw, and you readers got insight on was on Monday when Liberty bought almost 30 million shares.  That propelled volume up to near 100 million with little action in the price.  I said on that day, and it turned out to be true, that a single buyer was making a move.

The volume today on SiriusXM being low is not a huge concern.  This is the consolidation phase that we had been expecting.  In actuality I do not expect anything earth shattering to transpire between now and the end of the week.  Look for volume spikes, but they only carry importance if the equity is near a support or resistance level.
Support and Resistance
One key aspect of technicals is that it accounts for market sentiment.  Liberty is in a different mode than the rest of the market.  Their goals differ substantially in fact.  Liberty is on a quest for control. The rest of the market is on a quest for profits (either long or short).  Yes, in many ways the Liberty agenda may align with a long term investor, but the dynamic is still different.  That needs consideration, and that is why I am still hesitant to give any real strength to the support level at $2.50.
What we have today is an equity still hanging around in uncomfortable territory.  In my opinion it either needs to go ahead and correct down into the $2.40's to build a foundation there, or it needs to take a run at $2.60.  I still have caution about $2.40, though I do see a distinct possibility that the support there (at $2.40) will start to edge upward.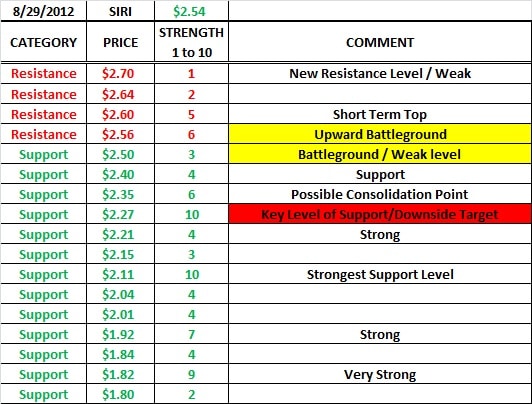 What we want to see is SIRI put up a test of $2.56 on volume.  The recent Liberty support with their buys may allow this to happen.  We are just a few trading sessions away from an announcement about the $186 million debt issue getting paid off and very positive auto sales getting announced.  If SIRI can hold the line for two or three more days, we may get a news catalyst that can get the proverbial ball rolling again.
Exponential Moving Averages EMA's
SiriusXM once again walked the proverbial tightrope.  I could double my money every day if I was simply to bet that the equity would close within a penny of the 5 day moving average!  The EMA's are all bullish again, but there are a few notable changes.  Remember, one key element in technicals is identifying the subtle things that others might miss.  We lost another penny between the 5 day EMA and the 13 day EMA.  The gap there is now less than a nickle.  That is not a signal to run and sell, but it is a signal to pay attention.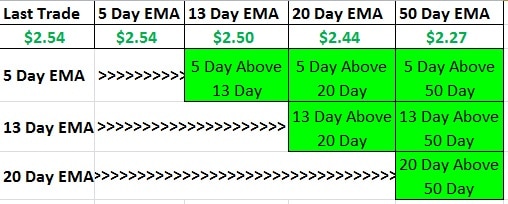 What we want to watch for now is a close above at or above $2.54.  This is key in keeping the EMA's bullish and buying a little bit more time until we see the positive catalysts develop in early September.   A close below $2.54 will not kill things, but we definitely want to stay above $2.49
Summary
SiriusXM has yet to mount a real charge at $2.56.  I do not see it happening just yet.  The equity has held the line above $2.50, which is interesting.  While a run up is always great, I think this equity wants to finish off the week with additional consolidation.  Bear in mind, news can move things quick.  There could be some buyers here because of anticipation, but there are also some that I feel are waiting for a pullback below $2.50.  Happy trading.