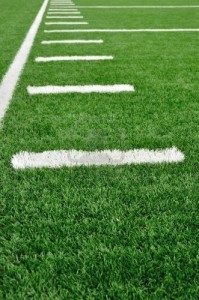 Another day of trading on SiriusXM (NASDAQ:SIRI) has passed, and while there is no need to run for the hills, you should have the hairs on the back of your next standing up at this point.  SiriusXM is slowly continuing its recent trend of dancing a fine line of moving into some consolidation with a sprinkle of caution for a small retracement to boot.  Fear not, this is the short term technicals speaking, and not the longer term.  Longer term things with SiriusXM remain bullish at the moment, but short term could mean some choppy waters.
Essentially active traders have been relegated to the sidelines and are probably getting that itch to move back in and get some trading done.  This is a tough point to go long or add to a position because the technicals say to wait.  Shorts have to be nervous, because Liberty has been buying and still needs to add to its stake.  Meanwhile longs simply hope that the line drawn in the sand at $2.50 can hold until some positive news pops.
Volume 
We had volume well below average today.  At first blush it could be taken as a sign that Liberty Media (LMCA) has eased up on buying, but past history tells us that the savvy John Malone will even hop in to grab as little as a few million shares.  Thus, we can not write off the fact that Liberty is still a player.

As I have long maintained, volume is worth watch and noting.  This is particularly true with what Liberty Media is doing.  The good news is that the action in the past week or so has moved support all the way up to $2.50 now.  Remember, we are looking for how volume corresponds to action.  Today the equity when down on lighter volume than the previous day, and well below average volume.    What this means is that there was no real conviction behind the downward move.  That being said, caution flags are now waving.  Read on.
Support and Resistance 
If nothing else, this sideways trading has allowed support and resistance levels to solidify.  We now have the very strong support at $2.50, and strong resistance at $2.56.  That is a very narrow trading range that will sideline many.  Things are contracting, so pay close attention over the next trading sessions.
As stated, there is a very narrow trading range right now of only a few cents.  The broader range is between $2.50 and $2.60.  SiriusXM has been flirting with breaking below $2.50 but has been resilient in staying above that level.  At this point I have moved very strong support to that level.  My only hesitation in doing this is knowing what Liberty has been doing.  I would go so far as to say that Liberty has some serious technical savvy.  Key Levels are $2.50 and $2.56 on volume higher than 55 million shares.
Exponential Moving Averages - EMA's
The EMA's are looking to be in a precarious position.  The equity closed below the 5 day EMA (bearish), and almost broke down lower than the 13 day EMA (another bearish signal).  To compound the caution flags, the 5 day is just a penny above the 13!  Making matters worse, the 13 is only 4 cents above the 20.  These are not technical things we like to see.  Stay tuned for my take after the chart.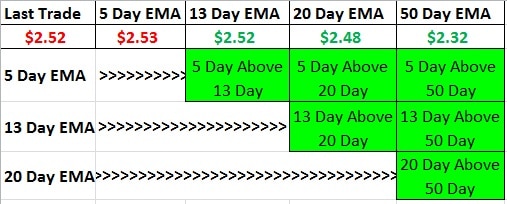 We do not have any red flags yet, but we are not far away from two of them.  Whether SiriusXM can continue to hold the line is the question of the day.  My short answer is that Liberty has been playing this close to the vest and has assisted greatly in keeping the price up.  It is a double edged sword for SIRI investors.  On one hand it is great to see the price stay up at these levels.  On the other, we know Liberty wants to get the cash invested back out again, so a merger may be more costly.  Longs are staying long, shorts are on the sideline, and Liberty is collecting shares at a level they are comfortable with.   The winner in this situation is Liberty.
What we need to see, if we want the technicals to reverse this trend, is SiriusXM widen the gaps between each average.  One penny between the 5 and 13 is not comforting, nor is 4 cents between the 13 day and 20 day averages.  This is getting very constricting and something is going to have to give.  Positive news could send this puppy moving up to $2.60 in short order.  Perhaps even beyond.  No news could bring on technicals that longs do not want to see in the short term.  If Mel does what I think he will and raises subscriber guidance early, then all will be right in the world.  As stated, this is not run for the hills territory.  This is wait and see territory.  Watch the volume, watch the support and resistance, and watch these moving averages.  Get your head into the game and be savvy.
A word of thanks to the premium members that have joined.  Please offer your feedback in the comments below.  If you like the service, please spread the word.  Success of the premium concept relies on having a good base.  Our goal is to build upon a great satellite radio community.  We are exploring other premium services that will add even more value to the subscription.