Friday proved to be interesting in the final minutes of the close.  The stock saw a substantial pop on the royalty decision.  The biggest question now is whether or not the equity can hold these levels , challenge $3.00, and stay there.  It will be an interesting Monday to say the least.  I did not really have time to initiate a trade in the mock portfolio, so I am still in.  I am selling the Level 2 over core in pre-market at $2.96.  This will leave me with the level 2 over core and the core position in tact.  More on that below.
Volume
Prior to the CRB news the volume was looking decent, but much like the consolidation volume we would have expected.  By the end of the day some 121 million shares were traded, so that is pretty compelling news and information.  What we want to look for now is whether this run will have legs or taper off.  I am betting on it tapering off in pretty short order unless SiriusXM has a 1-2-3 punch of sorts.

We want to see heavy volume continue if the run is to continue.  That means volume over 90 million shares.  If volume lightens up, the equity can still rise, but the strength would not be there.
Support and Resistance
Things have changed here as well.  The equity broke resistance in the mid $2.70's as well as the mid $2.80.  It even broke resistance in the mid $2.90's in after hours, only to settle back down to $2.91 or so.  What we want to watch are some key levels.  How does the equity react at $2.95.  In pre-market it is trading above that level, so it will be interesting to see what transpires.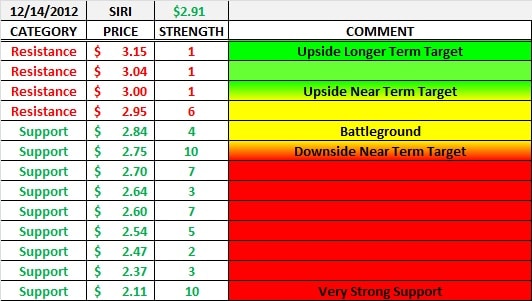 Key levels are $2.85, $2.95, and %3.00.  Pay attention to the equity reaction at these levels, and in particular what the volume is.
Exponential Moving Averages - EMA's
The Exponential Moving Averages saw some change.  The caution flags are gone, and we actually have a little room between averages!  Watch for early hints of cautions if the equity stalls up here.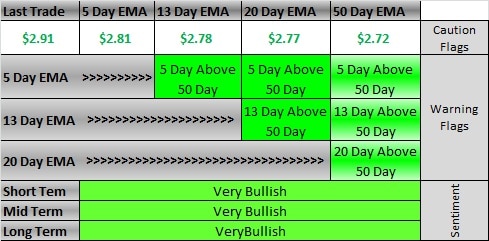 What we want to see is Sirius XM close at $2.95 or better.  This would continue to offer support to the bullish side of the equation.  There is some technical breathing room here, and it is my opinion that at some point the equity will take advantage of it.  It may not be today, but perhaps soon.
Mock Account
I initiated a trade of Level 2 Over Core in pre-market at $2.96.  I will now seek a peak and consider a sale of the Level 2 Over Core at about $3.00 or $3..05.  I will identify the peak by watching volume and action.  When volume slows, and the equity dips, I will consider it a peak.
On the down side I will sell Level 1 Over Core if the equity dips below $2.90.