I would have thought that finally getting a share buyback announced with a dividend to boot would have been enough to shoot this equity up.  My mock account is suffering slightly because the high of the day seems to have been in pre-market!  I bought in the mock account, in pre-market, on this news, because I believed that the stock would at least make a run to $2.95.  In my mind I would have a chance to cash out a bit on a crest and let the retracement happen.  Lesson learned!  I am putting myself in a time out!  At least I was only dealing with 25% of my mock portfolio and not all of it.  Now you see the reasons for a core position and over core position.
SiriusXM announced a $2 billion share buyback as well as a special dividend of $0.05 per share today.  That is big news.  The problem is that the market did not appreciate it.  Is the fiscal cliff that much of a weight on the market, or is there a fundamental flaw in SiriusXM?  My belief is that the fiscal cliff is more of a weight than I once thought.  SiriusXM has had resilience during challenging macro-economic times, but the weight of that situation appears to carry a bigger hold than I anticipated.
Where to go from here?  Well, strategically I want to participate in the dividend, so I will be more likely to simply hold as of right now unless I see something compelling.   That being said, I place a lot of confidence in the technicals, so I will not ignore a possible trade, especially if it is worth more than the nickle we will see from SiriusXM.  The trick is to pick up a great trade as well as the dividend.  We will see how this plays out.  That being said, I am still not out a ton in the mock account, and fully anticipate the equity to appreciate well beyond current levels.
Volume 
Volume was well over 100 million.  This represents strength, and should be enough to at least make an attempt to stay above $2.80.  Over the past week or so I have stated that $2.85, though it does not appear in the support and resistance charts, would be an important level for investors and the equity.  If nothing else, the fact that SIRI did not break $2.85 on this type of volume speaks volumes (no pun intended).

One fear I have is that any real test of $2.85 will need to carry volume above 110 million shares.  This level is attainable, but not an easy task.  More likely we will need to see the stock settle a bit prior to a new leg up.
Support and Resistance
The chart is very similar, and believe it or not, SiriusXM did not test any new ground in the action today.  It remained in the battleground range and did not close at a level that establishes a new technical element.  What we do need to consider now is that SiriusXM and perhaps even Liberty now carry the ability to defend the stock price.  This factor will begin to work its way into the technicals over the next few weeks.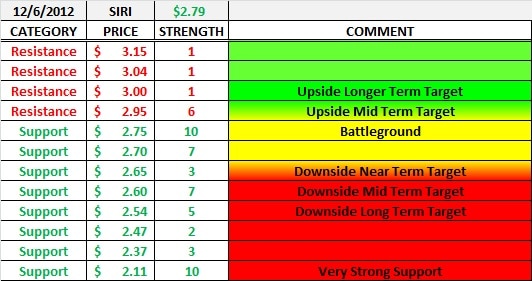 The shame of today is that SiriusXM did not hold $2.80.  For me this is frustrating.  This equity was looking for a reason to pop, and even on positive news it refused to break out and worse yet, refused to hold $2.80.  The trip to $3.00 is harder than many think.  Let's not even talk about $3.25 or $3.50 yet!
Exponential Moving Averages - EMA's
The EMA's are spreading out with a bullish bias.  We have green across the board, but clearly more consolidation behavior.  The wiggle room is nice, but will it remain in tact?  Volume late in the day was light, so it presents an interesting dynamic.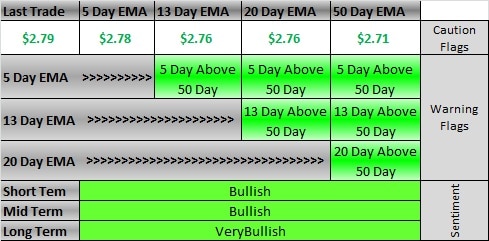 What we want to see is SiriusXM eclipse and hold $2.80.  A close of $2.77 will bring a caution flag.  A close of $2.75 will bring three caution flags.  $2.75 is VERY important.  If SiriusXM is to build on the current levels it MUST hold this level.  Otherwise we could be stuck in a consolidation trading range for a while.
Mock Account
After a week and a half of trading I am essentially right where I was.  The account is down about $4.  Had I been a buy and holder, I would be up about $30.  As you can see, I have mitigated risk, but maintain the potential to realize a nice gain when the equity does indeed make a move.  Thus far, it has been a treading water situation.  For me that is fine.  Remember, the goal is gains.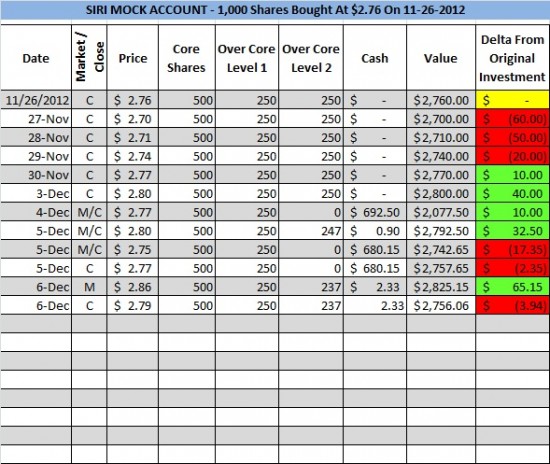 The trick here is to worry about the bottom line and not the number of shares.  I do not care how many shares I have as long as the bottom line is solid or carries that potential.  If I sweat the 13 shares I am down I am focusing on the wrong metric.  Dollars matter....shares do not.  My strategy for tomorrow is ultra conservative.  I am a seller of everything if the equity touches $2.69.  I am a seller of everything if the equity touches $2.95.  I do not think either will happen, but having a plan and discipline is important.  Of course, I will assess the technical conditions and volume and watch the news flow, but the framework of a plan is in place.