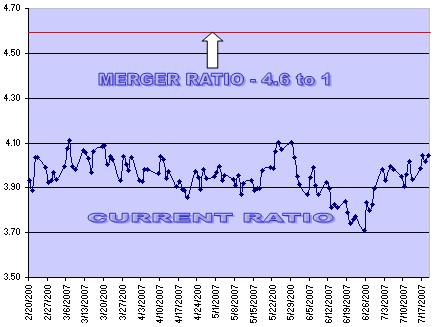 When looking at the sentiment regarding the proposed merger between Sirius and XM, one has to consider a few different avenues. The Mergers and Acquisition Analysts, the Sector Analysts, The Public, and the Street all carry various opinions on merger likelihood.
In this article we are focusing on the merger sentiment as seen on the Street. Perhaps the best indicator of the sentiment of the street rests with the current trading ratio vs. the proposed 4.6-to-1 (4.6 shares of Sirius for each share of XM) ratio of the deal between Sirius and XM.
Lately, it appears that the sentiment on the street is improving. Arbitrage traders look at these ratios closely. The more likely that a deal seems to happen, the closer these equities will trade to the 4.6-to-1 level.
Since the deal was announced, the trading ratio has averaged 3.95-to-1. What this translates to is that there is a perceived value in buying XM shares if you believe that merger passage will happen. By buying XM shares, at a ratio of 3.95-to-1, you would be getting Sirius shares at a discount, in essence getting .605 shares of Sirius "free" upon deal passage.
The ratio has seen a high of 4.11-to-1 and a low of 3.71-to-1. As of the close on July 19th, the ratio sits at 4.04-to-1. In the last two weeks, the ratio has gone from its lowest point to near its highest. This is all happening as the share price for these equities are also beginning to climb on a more regular basis.
With sentiment seeming to approach the highest levels yet, investors should make themselves aware of upcoming events that will likely have an impact on how the street perceives the merger.
July 23 – Mel Karmazin To Speak Before The National Press Club
July 24 – The Formal End Of The FCC Reply Period – Sirius and XM Outline Details
July 26 – XM Satellite Radio Holds Their Q2 Conference Call
July 31 – Sirius Satellite Radio Holds Their Q2 Conference Call
These events will likely give the street more insight and information regarding the merger. Additionally, the conference calls will give more insight into the financial status of the companies, and demonstrate the viability of the business model for the street. What will be interesting is to note how the ratio changes over the next few weeks.
We have already seen large public support for the merger. We are now seeing analysts begin to project better odds, as well as street sentiment improving. With all of this coming together, we will see exactly how the street digests all of this information.
Position – Long Sirius, Long XM -IMOJB-