The all new Sirius Stratus 5 has just arrived at retail and is now available to the public. While not all retailers have the product yet, our site sponsor TSS-Radio has just received a shipment, and was kind enough to give us a heads up.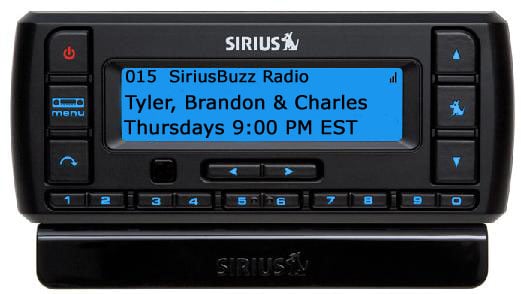 Now, before anyone asks, this is NOT an A-La-Carte radio. The stratus, will be capable of receiving Sirius programming as well as any "BEST OF" that a subscriber adds on to their service.
The Stratus 5 is a capable entry level unit that allows consumers all of the access to satellite radio for only $69.99. The new Stratus 5 has shifted away from the gray case and orange display and opted for a sleek black casing and blue display. The universal connections allow you easily shift your Stratus 5 between docking kits and audio systems for the home, office or other vehicles.
Stratus 5 represents a great value for a satellite radio newbie, a second receiver for an existing subscriber, or a great price point for a gift. The Stratus 5 is available at TSS-Radio. Tell 'em SiriusBuzz sent you.
STRATUS 5 FEATURES:
Easy-to-read blue display
Universal docking capability: Add accessories to enjoy in your home, office or additional vehicles
FM transmitter or stereo audio output to connect to your vehicle's radio
FM preset function: Store the best FM frequencies in your area for optimum integration with your vehicle's radio
10 presets: Enjoy fast access to your favorite channels
Push-button navigation: Surf channels on the fly
One-Touch Jump™ to local traffic and weather, or your favorite channel
Parental controls: Easily lock and unlock channels
Radio weight and dimensions: 2.4 oz., 4.5" x 1.9" 0.6"
KIT INCLUDES:
Radio
Dock with dash and vent mounts
Power adapter
Magnetic mount satellite antenna
FM extender antenna
Position: Long SIRI.