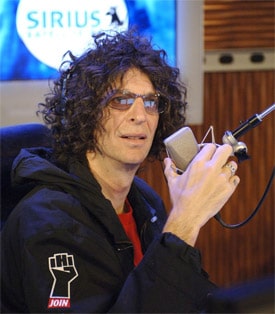 The subject of Howard Stern is getting a lot of attention lately. His contract is set to expire at the end of the year, and already we are beginning to see the Howard Stern version of on-air negotiations. This week Stern stated that retirement was not an option, but that he would wind up somewhere. He also stated that there were other options he was considering and dropped a hint that he felt the Internet would be available in cars within 5 years.
As I pen this I can not help but think of the same hurdles that are being faced by Internet radio services such as Pandora and Slacker. If Stern goes the Internet route, there are hurdles similar to that which all Internet radio services have:
1. Most radio listening happens in the car. Internet is not available in all cars.
2. Internet Radio may seem like an inexpensive alternative, but equipment is needed to make it work. In this case it is smart phones that include data plans. For fans that already have smart phones a switch to Internet radio is simple. For those that don't, it means dropping down hard earned dollars on a new phone, and locking into a more expensive monthly contract.
3. When Stern migrated to Sirius XM there were fans that refused to come with him because of hardware costs. That same thing could happen again to those that do't want cell bills that go over $120 per month.
4. Stern would likely lose the "live factor" meaning it would be that much more difficult for listeners to feel connected to the show. How on earth can we expect whack packers that call in and are integral to the show to grasp the concept of calling in when the show is being recorded instead of when it is being heard?
5. Satellite Radio has good coverage across the entire continent. Cell coverage can be much more spotty.
6. No matter what Stern does, he will not put up his own money to do it. This means that someone is going to have to pay handsomely. I do not see Stern doing another deal that involves stock, and that is likely the way another competitor would need to compensate him.
7. Stern's success on the Internet radio via smart phones is not defined. Because he is not available on any of the apps, there is no measure of his success.
Howard Stern has an ego. He has a certain way he wants to proceed, but perhaps his ego is in the way as he is negotiating with Sirius XM. Stern likes to credit himself with almost every subscriber Sirius has obtained since his arrival. Yes, he did bring subs, and yes, he does have cache, but XM still had more subs than Sirius at last count, and they did it without Stern. Stern is a draw, but not as big as he likes to think. When Stern came to satellite he lost listeners. It was a subject the competition brought up time and time again. If he tries to be a pioneer again, the same thing will happen. Not everyone will follow. As the King of All Media, does he really want to go out on a decline? If he stays with Sirius XM, he can participate in the growth Sirius XM will have in the years to come. Sirius XM already has a proven and stable platform that Stern can claim as his own. Even if he leaves, Sirius XM will grow. The subscriber numbers of XM prove growth is happening without Stern. How would it look if the King of All Media left and the company was still adding subscribers at a healthy clip? Is that a risk stern is willing to take?
I do believe that smart phones will evolve further, and become more integrated with the dashboard of cars. However, there are costs associated with that. The newest wave is making your smart phone a wireless hot spot. Such technology would make it much easier to bring the Internet into cars. Verizon charges an extra $20 per month for that feature, but as you can see, the $20 fee is stiffer than the current rates for Sirius XM which provides a more consistent signal and is already built into cars.
Will Stern leave? Only time will tell, but it is a subject that I will cover in a follow-up article.
Position - Long Sirius XM Radio