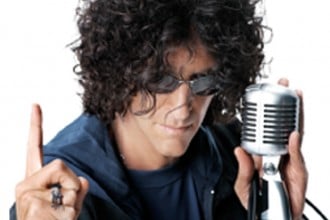 You didn't have to be a rocket scientist or even a Howard Stern fan to predict what has now begun.  The Stern drama has started and will continue until he re-signs a deal, or exits his contract with Sirius XM. The latest is a classic example of something being taken out of context, and blown out of proportion by the media, and perhaps the King of All Media himself.
In a recent interview, Sirius XM CEO Mel Karmazin stated that he would like to renew Howard for less money and have him work more. The comment was innocent enough, in that the context of the interview was about how Sirius XM is going to cut costs and become a profitable company. Stern, with his big contract, would be a natural target for those critical of the performance of Sirius XM.
Mel Karmazin is a business man, and he is going to give an answer that indicates the goals of the company to cut costs. However, this is Sirius XM, and any comment faces the dangers of being spun out of control by any number of media outlets.
Let's face it, Howard is finishing off a big contract and he is a major draw for satellite radio. His contract, which has about a year left is a major decision for Sirius XM, and even himself. On his radio show, Howard vented about Karmazin's comments and ranted about how he may be done at the end of the current deal.
Typical to Stern Show fashion, he is using anything and everything to make his point. This includes rants about the contract and media coverage on his own show. In an economy where everyone is downsizing and cost cutting, should the premier draw of the company take a cut in pay? Regardless of anyone's opinion, the decision rests with Howard himself and he will play every card at his disposal to make his next sweetheart deal.
If I had to bet on it, I would say he will sign again but, it wont be cheap. The original Stern deal came with a virtual boatload of stock. That stock has gone down in value substantially, thus making his "take-home" pay substantially less than what was initially published.
Ever since Howard Stern signed his first deal, confusion has reigned supreme. Media outlet after media outlet assumed he got $500 million for five years. The reality was that the original deal was $500 million for him, his staff, the studio construction, and a budget all of the talent featured on the Howard 100 and Howard 101 channels. This is not to say that he did not make a lot of money...he did. However, he is NOT making $100 million per year, and with a big chunk of the contract paid in stock that went down, don't look for a similarly structured contract going forward. Howard will want more guaranteed money.
Howard Stern is no stranger to contract negotiations. He is also well aware that his radio show is the perfect format to get what he wants. The longer this plays out, the more leverage he has. Each news story covering the saga adds to the bottom line IF Sirius XM really wants to re-sign him.
Over the next several months look for the media to question whether Sirius XM "needs" to sign Howard Stern and for stories to question whether or not the company can afford to keep him on board. We saw foreshadowing of this happening with Howard 101 talent Bubba The Love Sponge. Ultimately, Bubba was hired to a contract that has him doing both terrestrial radio as well as satellite radio. Essentially, Bubba became a part time satellite radio employee.
The drama surrounding Howard Stern has just started. Watch for him to continue his radio based negotiations and for the media, as well as analysts, to assign a big question mark to the entire process. This will cause uncertainty that will be a central description of Sirius XM until the issue is resolved.