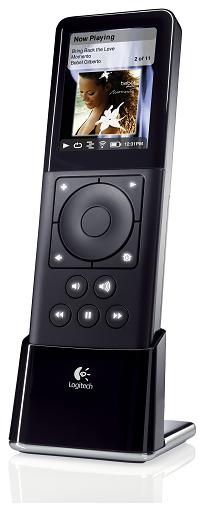 The Squeezebox Duet is a Home Run, and it's because Logitech has covered all of the bases. Simply Stated, this is a MUST HAVE ADDITION to the sound system of any person who appreciates audio entertainment!
We got our hands on the new Squeezebox Duet for a review, and I can tell you this...No one will get this nifty device out of my hands. The Squeezebox Duet is a home run! The sleek and stylish controller and receiver fit any decor, the 2.4 inch color LCD screen allows further customization to suite whatever your mood, and that is just the beginning.
Logitech's Squeezebox Duet allows users to access millions of songs from Internet radio or even your own play lists. All of this is in CD quality, and controlled through the easy to operate Squeezebox handheld device. Better still, one Squeezebox can let your kids listen to their tunes in the playroom, while you listen to yours in the den, and your wife her own in the living room. Want every room in the house to have the same music? With the Squeezebox system it is possible.
Logitech covered all of the bases by developing a simple user friendly Squeezebox system that will add gusto to any audio entertainment system. The Squeezebox Duet also has the ability to allow consumers to build a whole house system at a pace that fits any budget. Out of the box the Squeezebox Duet comes with one controller and one receiver and that is all it takes to get yourself started. This allows you to instantly hook up the Duet to your existing home stereo and begin enjoying all of the music that the Internet has to offer. At $399 the Squeezebox Duet will give your existing stereo functionality that you did not think possible. No more CD's on shuffle. Instead, you music choice is only limited by your imagination.
Upon reflection, I am floored by the world of music and entertainment available in the small box from Logitech. First, the packaging and instructions were simple and straight forward. I will admit that I had a bit of worry when opening the box. All I could picture was computer downloads, connecting and unconnecting the device, and missing one step that threw everything into a tailspin forcing me to start over. Not at all the case. A simple download, followed by entering my network information, and then the obligatory reset of my network router (something I have now learned to do out of habit), and I was up and running. Better still, I input my Sirius Internet Radio user name and password, as well as my Slacker user name and password, only once, and from that point forward, INSTANT ACCESS.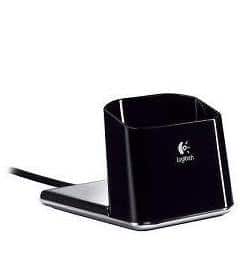 Logitech's Squeezebox Duet already has relationships with the Internets top music providers such as:
Radio IO
Radio Time
Live 365
SHOUTcast
Sirius Internet Radio
Pandora
Rhapsody
Slacker
MP3tunes Music Locker
Live Music Archive
LAST FM
It even allows you to see current news from sources such as BBC News World, CNET News.com, The Newt York Times, RollingStone.com, Slashdot, and Yahoo! Business. Are you into podcasts? Podcast Alley's To 50, as well as others are right there for you. The Squeezebox Duet is a music source, a news source, and seems to do just about everything short of mowing the lawn.
The Basics
WIRELESS NETWORK
I am so impressed with the the Squeezebox Duet that it is almost difficult to find a place to start. But, as with anything there is always a beginning, and that beginning is with the wireless network. A product such as the Squeezebox Duet provides a great excuse for going wireless. If you have held off from putting a wireless network into your home because you felt there was no need, THINK AGAIN. This device alone is reason enough to make the jump. What makes all of the great features of the Squeezebox Duet come to life is the fact that you are accessing everything via a network. This is what an 802.11g network is all about! If you have already made the jump into the wireless world, make it worth while, add a Squeezebox Duet and watch it REALLY WORK. Add more music than you can imagine to that network, in more rooms than you can imagine!
THE SQUEEZEBOX CONTROLLER
Everything at your fingertips, and controlled with 10 buttons and a scroll wheel. The buttons allow for the expected functions such as volume up, volume down, play, pause, fast forward, and rewind, but also allow you to access the on screen menus for even greater control. The screen is the secret to much more detailed control and capability. The scroll wheel and intuitive center control button make it easy to not only control the device, but access all kinds of menus and information. It is through the controller that simultaneous playing of different audio entertainment is not only possible, but easy.
You control not only what you listen to, but where and at what volume as well. No more running to the stereo to turn it down. The Squeezebox controller lets you set the volume in each and every zone you set up. You can even pause your tunes to take a phone call. If for some reason you find the Squeezebox Duet controller not in your hands, it will likely be front and center docked in a tasteful charging base on your counter, desk, or bureau. Set the screen saver to the clock, and the device enen has a function when not in use. You can even set the Squeezebox duet to act as your alarm clock.

THE SQUEEZEBOX RECEIVER
This simple device is how the controller connects to your network. Audio connections and a simple power supply allow you to connect this device to a full blown stereo system, speakers, or even a simple desktop radio. As with the Squeezebox Duet controller, the receiver is unobtrusive and classy. It also gives you instant insight into the status of your network connection via simple color codes.
Want great tunes in other areas of the house? Simply add a receiver. More receivers means more entertainment in more rooms. Adding a Squeezebox receiver is easy, and can done at any time. This allows you to grow your stereo listening at your own pace. At a price point of $149.99, those on a budget can expand their system at a reasonable pace for a reasonable price. Building out your audio entertainment system has never been so easy. Thinking back to all of that speaker wire I ran through my house, I wish I had something like the Squeezebox Duet much earlier.
SQUEEZE NETWORK
Now I know I already said that the controller is perhaps the most impressive aspect of the Squeezebox Duet. However, nothing could happen without SqueezeNetwork. You see, the controller lets you access all of the wonderful audio via a smooth and easy to use interface, but it is SqueezeNetwork that allows you to do all of this even while your computer is off.
SqueezeNetwok lets users to access Internet radio stations, as well as access music subscription services. You can even share the same information across several players that you own. The capabilities seem to only be limited by the amount of audio entertainment one can listen to.
SqueezeNetwork is where you outline your accounts, and from there, the system does all of the work. Simply use your Squeezebox controller and listen to your hearts content. Want the best news? SqueezeNetork is available for FREE at www.squeezenetwork.com
From the packaging, to set up, to actual use, the Squeezebox Duet has is a HOME RUN. This product has a WOW factor each step of the way, and even after playing with the system for quite some time, I keep coming across features that continue to impress. Logitech covered all of the bases here by giving users features such as the high quality color LCD screen with album art and artist information, easy controls, and even a motion sensor! That's right, you simply pick up the remote and it is on!
If you are thinking that your stereo system is getting a bit dated, a Squeezebox Duet will give it new life, and make it more capable than you ever thought. At $399 this is far more budget friendly than that new Home Theater receiver you had your eye on. A system such as the Squeezebox Duet will have you enjoying music throughout your house, and will even get you away from that computer keyboard and PC speakers, allowing you to experience music the way it was meant to be heard.
Enjoy Audio Again - Squeezebox Duet
The Squeezebox Duet is available directly from Logitech's Slim Devices for $399. Visit Slim Devices to see more photos, a video, and order this fine audio entertainment product.