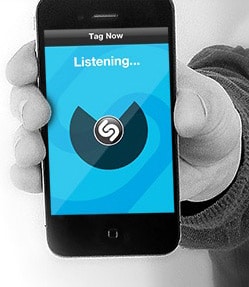 At this point most people that follow Sirius XM Satellite Radio (NASDAQ:SIRI) are well aware that a new competitor, Spotify, has entered the audio entertainment space. While the U.S. launch of Spotify will not carry a huge impact on Sirius XM, it will be something that Sirius XM investors should watch.
I am somewhat of a technology junkie. I love new gadgets, and have been an avid smartphone user for quite some time. One of the most popular apps on a smartphones is called Shazam. Shazam is a nifty app that allows you to identify a song simply by letting your phone listen to it. It is great. Whether for identifying a new song, or trying to remember an old classic, Shazam has you covered.
This weekend, I found myself trying to identify a song, and broke out my Shazam app. To my surprise, Shazam is working with Spotify here in the U.S.! Upon pressing the Shazam button I saw the following message:
Discover With Shazam
Play On Spotify
Spotify and Shazam have worked together outside the U.S. since the beginning of the year, so my surprise should have been tempered, but instead, it was almost as if I did not know of the relationship. It was not until Spotify launched here and I saw their name on Shazam that I really got to thinking.
If Spotify can have a deal with Shazam, why can't Sirius XM? No, Sirius XM does not instantly play your music yet, but Satellite Radio 2.0 may bring that possibility to reality. Even without Satellite Radio 2.0, Sirius XM and Spotify could do something pretty cool.
Imaging using Shazam to identify a song, and then having a message tell you that the song plays on Sirius XM's Classic Rewind, or one of the other satellite radio channels. Essentially Sirius XM could use Spotify to let consumers know that Sirius XM actually has a channel that plays that classic song. Such a deal could also get smartphone users exposure to and frequent reminders of the existence of the service.
Yes, such a deal may have some modest costs, but it is yet another way that Sirius XM can get the word out there about their service. In an earlier piece I suggested that Sirius XM may want to consider hooking up with Groupon. It is deals like these that get the word out to a new level that the company will need going forward. With the number of used cars that are equipped with satellite radio expanding, the company needs to find innovative ways to let consumers know about the wealth of content on Sirius XM.
Position - Long Sirius XM Radio