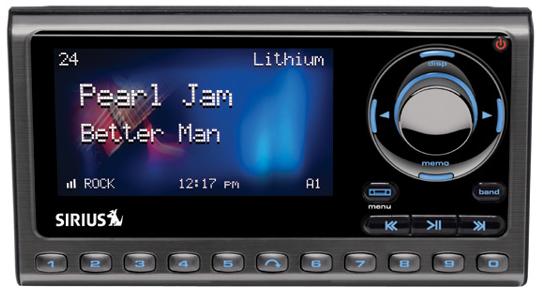 The guys at TSS Radio, a Sirius Buzz sponsor, sent over a brand new Sirius Sportser 5 for us to take a look at and review. While some may think that the Sportster 5 is merely a color screen version of the Sportster 4, they would be mistaken with that assumption. The full color display adds a vibrant flavor to the interior of your car, and beyond that, the background colors are adjustable to fully match your interior dashboard lighting scheme (check out TSS Radios video demonstration of the color change feature). Other upgrades come with the Sportster 5 as well.
The Sportster 5 with vehicle kit allows fast and easy installation via a suction cup, or vent mount. Included with the kit is a directional fm modulator antenna option, antenna, power cord, universal vehicle dock, and even a "Mongo" decal for the window of your car. Users who want a better listening experience can opt for other connection options such as a cassette adapter or an FM Direct kit. TSS Radio has these options available for consumers.
Functionally, the Sportster 5 is quite intuitive and easy to use. Whether tuning into a satellite radio station, adjusting background color or setting one of your 30 favorite channels, the navigation through menus is a breeze. The large display gives you access to all of the important information such as channel, artist, song, signal strength, and time. Those seeking an even larger font can have artist and song information scroll across the screen.
The slick Sportster 5 is complementary to the cars dashboard. The small size (4.5" x 2.5" x .6), and various mounting options makes the Sprtster 5 unobtrusive no matter where you decide to mount it. I used a vehicle specific ProFit Mount from TSS Radio which I would highly recommend. The Tivo-like pause and rewind offers an upgrade from the Sporter 4 as well. Subscribers with a Sportster 5 can enjoy a 60 minute buffer rather than the 44 minutes offered in the past.
Radios such as the Sportster 5 also offer something that S50 and Stiletto issues do not have. Artist and song seek. Because of advanced recording capabilities of Sirius' wearable line, these features were not included in order to appease the RIAA. However, the Sportster 5, with a more simple pause/rewind feature allows you to set your favorite songs and artists, and the device will alert you when they are playing on any Sirius channel.
The additional features and capabilities over the Sportster 4 make an upgrade to the Sportster 5 reasonable and well worth it for consumers.
Features include:
- Large multi-color display: easy viewing and use
- Selectable colors: match your dash lights or mood
- SIRIUS Universal docking capability: add accessories to enjoy in your home, office or additional vehicles
- SIRIUS Replay™ : pause, rewind and replay up to 60 minutes of live radio
- FM transmitter or stereo audio output to connect your vehicle's radio
- FM preset function: allows you to store the best FM frequencies in your area for optimum integration with your vehicle's radio
- 30 presets: enjoy fast access to your favorite channels
- S-Seek™ Alert: so you won't miss your favorite artists, songs and sports
- One-Touch Jump™ button: direct access to local traffic and weather, or your favorite channel
- Personalized sports ticker: real-time updates of your favorite sports
- Rotary tuning knob: surf channels on the fly
- Sports Alert ™ : track your favorite sports team and race driver
- Parental controls: easily lock and unlock channels
- Alarm clock w/snooze: wake up to your favorite channel
- Radio weight and dimensions: 3.7 oz., 4.5" x 2.5" x 0.6"
- Complete vehicle kit includes radio, dock with suction cup and vent mounts, remote control, power adapter, magnetic mount satellite antenna and FM extender antenna
TSS Radio makes getting your Sirius gear easy and simple. The team at TSS is knowledgeable about the hardware, accessories, installations, as well as the all important rebates. Avoid the lines and consider TSS Radio for your holiday shopping needs. All orders over $50 have free same day shipping.
Position - Long Sirius - TSS Radio is a sponsor of Sirius Buzz.