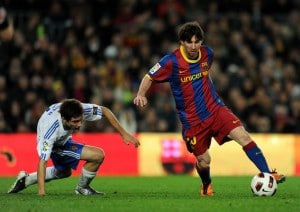 SiriusXM Radio  today announced that it has created a new channel dedicated entirely to the world's most popular game...SOCCER!  The channel is called SiriusXM FC and will begin programming on October 15th on channel 94.  This is soccer the way it was meant to be.  24 hours per day and 365 days per year.  Better yet, SiriusXM Internet Radio and this will allow listeners to catch their favorite shows On-Demand!
From Barclays Premier League,  to UEFA Champions League and FA Cup, as well as Major League Soccer playoffs, SiriusXM FC will have it covered.  The feat was no easy task.  Deals were struck with Talksport to broadcast all Barclays Premier League matches, and FOX Soccer for all UEFA and FA Cup matches.  The team at SiriusXM was able to work a little bit of soccer magic to pull this together!
"The demand for worldwide quality soccer coverage continues to grow and we're very excited to now provide soccer fans with an entire channel dedicated to their sport," said Steve Cohen, SiriusXM's SVP of Sports Programming.  "SiriusXM has created and developed several sports specific channels which have become must listen destinations for NFL fans, MLB fans, motor racing fans and many others.  SiriusXM FC - with an outstanding lineup of on air talent, daily expert analysis and live play-by-play - will be the next SiriusXM channel to bring fans closer to their sport."
While the games themselves are the important content, what would soccer be without a wealth of discussion and debate?   SiriusXM FC will feature shows hosted by an expert cast of former players, coaches, executives and journalists from the U.S. and Europe that will deliver the latest news and analysis and give fans a place to discuss the headline stories from the world of soccer.  Essentially listeners will get a great mix of games, news, and discussion that is unrivaled anywhere.
Content such as this is what defines a great radio service and sets SiriusXM apart from the rest of the audio entertainment landscape.  With over 23 million subscribers, SiriusXM is fast becoming a must-have service for sports and talk fans.