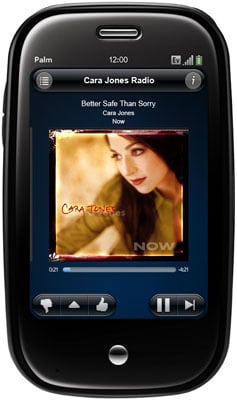 Its been 11 months since the Apple iPhone App Store opened its doors and over a billion downloads later, there is still no sign of an official Sirius XM iPhone application. I should probably mention that the guys at Sirius XM have been saying that we should expect one "soon" which has fans everywhere asking the question… what the heck is taking so long?
As if things weren't hard enough for fans of the Satellite Radio giant Sirius XM, yesterday they were dealt another blow when free internet radio specialists Pandora came through with a new application for the recently released Palm Pre. How is it that companies like Pandora, who by the way, had the most downloaded iPhone application of the entire year, can manage to turn out new applications in a matter of days while Sirius XM fans have had to endlessly wait?
Pandora now has a dedicated "on the go" page featuring free applications for four of the top smartphone platforms including the likes of Balckberry, iPhone, Windows mobile, and now, the only days old, Palm Pre. For those of you who might not know, the Palm Pre has only been on the market for a matter of days and already Pandora is locked, loaded, and ready to go.
The fact that the Pandora iPhone application was the most downloaded application of the entire year should be sounding off alarms in the heads of the movers and shakers at Sirius XM. There have been millions of iPhones sold and billions of applications downloaded and where was the biggest market? The audio entertainment market. What more do the people at Sirius XM need to see and how long will their loyal subscribers have to wait before they realize the importance of this new delivery system, which their fans won't stop begging for and at the same time can put their content into the ears of millions of untapped consumers?