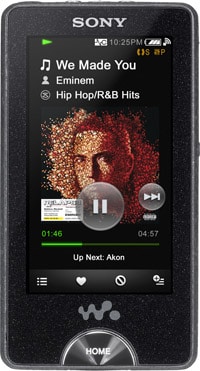 Just as Sirius XM Radio is getting ready to launch their iPhone application, Slacker takes another step out in front to differentiate itself. Slacker will be featured as a standard application on the soon to be released Sony X-Series Walkman.
The new Sony X-Series features some state of the art features that iPod has not even addressed yet. Priced to compete with Apple's iPod touch, and with the benefit of a strong brand name in electronics, the Sony X-Series promises to be a popular choice for consumers.
Features include standard noise cancellation, an FM tuner, standard Slacker, and the latest in video screen technology.
[via SlackerActive]