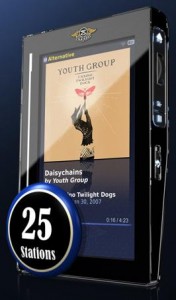 I got a chance to tool around with the 4GB version of the Slacker Portable Player, and it is a nifty device. The player makes the Slacker service even better than it already is. Music lovers who are already familiar with the Slacker service love it because it allows for customized radio stations that allow the user to still discover great music, while at the same time getting more of the songs that they want.
The Slacker Portable Player now enables users to take their Slacker tunes and customized stations with them wherever they go. Biking, jogging, or in the car, the Slacker Portable Player would be a welcomed addition to anyone that appreciates great music.
With the premium service available for as little as $7.50 per month, the value in Slacker is better than most realize. Customized stations, no commercials, skipping songs, saving songs, and banning songs are just some of the features that make the easy to use Slacker service and Slacker Portable Player a staple in my radio listening line-up.
Customized stations is not just a name. The stations actually become what you want to hear. Slacker even takes it a step further. Have a favorite artist? There is likely a station that will feature many songs from that artist on a more regular basis. There are literally thousands of stations to choose from.
The full review of the Slacker Portable Player is available on Slacker Active