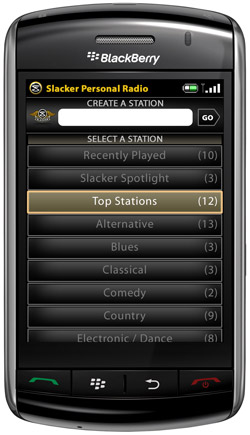 It's only been a few weeks since the launch of the Slacker iPhone application and already the guys at Slacker have another streaming app. ready to go for the Blackberry Storm. This latest app. allows Blackberry users in the U.S with an OS of 4.3 or higher to stream their favorite stations through the network or WIFI connection.
This sharp and intuitive interface brings all of Slacker features from the web right to the palm of your hand with full touchscreen capabilities and a new performance enhancing caching system to reduce power consumption by up to 5 times that of streaming playback.
This leaves me asking myself one question... why would Slacker waste their time with all of these fancy newfangled portable applications? I mean, they can't be that important for business... right? If they were, surely Sirius XM would have created their own by now.
[via SlackerActive]