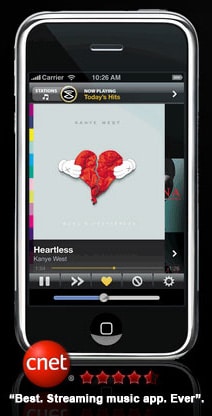 Slacker is continuing to broaden their reach in the Internet radio universe. The Slacker application, with over 1,000,000 downloads to their credit, has just turned up the volume again by releasing new apps for the iPhone and Blackberry with added features to improve the listening experience.
Slacker's new app speeds the song-to-song transition, allows the user to read emails without interrupting their music listening, and still delivers high quality stereo sound that Slacker fans have come to expect. With four times as much variety as their nearest Internet radio competitor, Slacker is fast becoming a musical staple of iPhone and Blackberry users.
Sirius XM radio is nearing a launch of their own iPhone application, and with it a serious entrance into the Internet radio side of the audio entertainment world. Services such as Slacker can not afford to rest on their laurels, especially if Sirius XM markets their application aggressively. Slacker boasts that the application is free, and then up-sells consumers to a Slacker Plus services that eliminates commercials, allows unlimited skips, and lets users see album art, artist information, and song lyrics.
With the OEM channel slumping, Sirius XM's iPhone application is taking on an importance for the company. Should the satellite provider gain traction with this application, their live non-music content such as news and sports will deliver a distinct advantage.
[via SlackerActive]
Long Sirius XM Radio