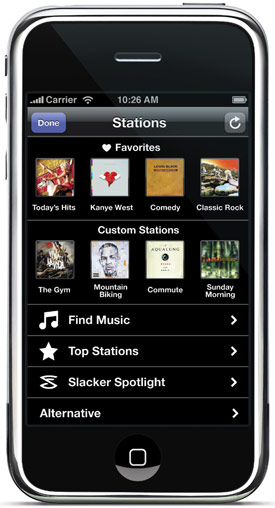 The guys over at Slacker have officially released a shiny new iPhone application for their increasingly popular Slacker online streaming radio service. The free application is available for all iPhone and iTouch users by visiting Slacker.com/iPhone or by simply heading over to the Apple iPhone App Store.
Fans of Sirius XM have to be asking themselves... what gives? Slacker doesn't have half the resources Sirius XM does, yet fans of Slacker have a sleek web application and a spanking new iPhone App while Sirius XM subscribers are forced to use a clunky interface that doesn't even work in all browsers.
While Sirius XM is busy restructuring, cutting programming, and searching for financing the rest of the audio entertainment industry is innovating and passing them by. Make no mistake about it, every day that Sirius XM does not have an iPhone App available they are losing potential subscribers to their competitors.
[via Slackeractive]