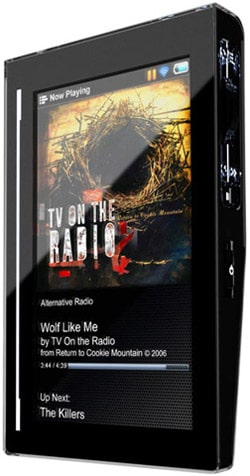 Sirius Buzz has learned that Slacker has now inked deals with some of the biggest movers and shakers in the music publishing world. The deals, which have been in the works for some time, enable a full integration between the Slacker Internet radio service and the Slacker portables.
Some noteworthy comments made by music industry executives point to the broad audio entertainment landscape as well as take what may be perceived as a jab or two at satellite radio with regards to law suits surrounding recording capabilities on the wearable devices.
Consumers who have not tried slacker may want to test drive the service by visiting the Slacker website
Comments by Music Industry Executives:
"By working with the publishers, we can offer a radio experience that is more personalized and - for the first time - completely portable," said Dennis Mudd, CEO of Slacker. "These new partnerships give Slacker customers the freedom to customize personal radio stations to their style and take them wherever they go."
"As publishers, we must continue to be flexible and open to new business models and find creative solutions to license them," said David Renzer, Chairman and CEO, Universal Music Publishing Group. "Credit to Slacker for making sure they secured the proper rights before launching and we look forward to distributing royalty checks from Slacker to our UMPG songwriters."
"People who love music want to discover new artists, listen to their favorites and take their songs with them wherever they go," said Roger Faxon, EMI Music Publishing Chairman and CEO. "Slacker's Personal Radio service is a promising distribution channel that fulfils a clear consumer demand, and that has to be good for our songwriters and for the industry as a whole."
"The multi-tiered format of this new digital service creates a potentially rewarding user experience," said Martin Bandier, Chairman and CEO of Sony/ATV Music Publishing. "We are happy to agree to license a business where our writers get paid, and move the industry forward in legal song streaming and delivery in the digital space."
Dave Johnson, CEO of Warner/Chappell Music added: "Today's music delivery options are evolving rapidly and interactive Internet radio services have the potential to be a promising new business. Slacker's personalized service provides the kind of interactivity and portability that consumers demand and it offers an ideal platform for us to distribute our talented roster of artists, songwriters and producers."
[Via Slacker Active ]
Position - Long Sirius/XM