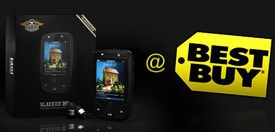 Slacker, the Internet radio service that fills a niche between satellite and iPod now has their latest G2 player available at Best Buy Stores across the country. For Slacker, this move is substantial in that it gets them into the commercialized retail channel. Word of mouth sales are great, but they can only take a company to a certain point. By becoming available at big box retailers, Slacker now has a chance to be compared head to head against other consumer products. Additionally, consumers can now touch and feel the player and learn more about it.
Slacker joins many other audio entertainment products available at Best Buy. Having reviewed the Slacker G2, I can say that electronics consumers will appreciate this device, and that exposure may help Slacker continue to grow.
At this point I would imagine that the Slacker display will be in the MP3 section of the store, which will put it head to head with iPods and Zunes rather than satellite radio receivers.
Position: Long SIRI.