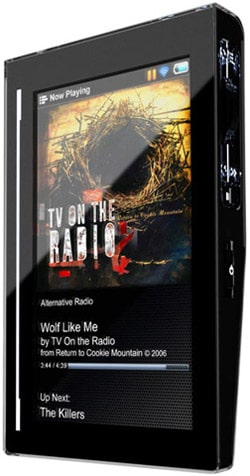 Sometimes when you are a start-up company things can go wrong. When this happens, it can seem as if the hole is so deep that you can not overcome the problems. With rave reviews about the Slacker service from sources such as the Wall Street Journal, Time, CNET and others, it seemed as if the Slacker concept was destined for greatness. However, the Slacker concept is not complete without the Portable media player and the satellite delivered content. That is why the release of the portable player this year was so important.
The Slacker Portable Player was recently reviewed by Walt Mossberg, and his opinion was not as rosy as previous reviews. Mossberg stated, "The two prototype Slacker units I tried, however, were hobbled by bugs and glitches that the company must expunge by the release date, which was originally slated to be this month. For instance, the players sometimes failed to wake up after going to sleep, requiring a reboot. The touch strip was unreliable. One player failed several times to connect to my account. Battery life is well below Slacker's goal of 12 hours between charges. The company says it is aware of these problems, and pledges all will be fixed."
Slacker should have learned a valuable lesson from XM's Inno experience with Mossberg. Before giving something to Mossberg to review, you better make sure that all of the bells and whistles work, and that his experience with your product will be seamless. If your product is anything short of seamless, be prepared for the fallout.
In my opinion Slacker pressured themselves into trying to get a holiday delivery for their portable player, and would have been better served to perhaps announce their portable at the Consumer Electronics Show in Vegas, which is held in early January. As things stand now, the Slacker device will not ship by December 13th as originally promised, and instead will be delayed until January 31st, 2008.
All of that being said, I still am confident that these setbacks can not be overcome. CES is a big stage, and Slacker should give consideration to having a presence at the venue. The delays of shipment for those that ordered the product will not sit well with consumers, and the company should perhaps consider making things right for those consumers that wanted to give Slacker as a gift for the Holidays. Slacker should also consider partnering up with some key retailers to get support behind their product. A retailer such as Crutchfield would give consumers additional exposure to the product, and a place where consumer questions can be answered (as long as the staff is trained on the product).
The concept of Slacker has not changed, and I still feel that it is a compelling product that consumers will enjoy. The early technical glitches can be overcome, and at the end of the day, the combination of customizable radio and a portable player will be an attractive solution for consumers.