While investors in Sirius XM (NASDAQ:SIRI) await Satellite Radio 2.0 and the "On Demand" options it will bring, competitor Slacker announced today that they are adding an "On Demand" tier of their own, more evidence that Internet radio is shifting to a hybrid model that combines free service with premium tiers.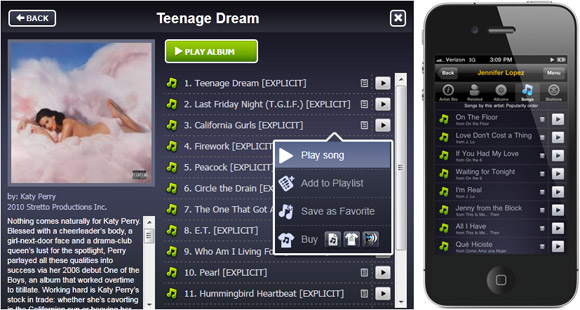 Slacker introduced a new "On Demand" level of service to its Standard and Slacker Plus services, giving the service three price points and three tiers. Standard Slacker is free, and ad supported. By becoming a subscriber to Slacker Plus ($3.99 per month), users avoid commercials, get unlimited song skips, and get lyrics. Going to Slacker Premium, users get "On Demand" giving subscribers unlimited access to a catalog of roughly eight million tracks, the ability to play entire albums, caching for offline listening, and explore the ability to explore new artist page features.
The price point for Slacker Premium might be music to the ears of satellite radio investors, and is a reason following these competitors is so important. The new Slacker Premium service costs $9.99 per month (a $6 premium over Slacker Plus). This should give Sirius XM some flexibility when pricing their own service. Certainly it can be argued that the news, sports, talk, and entertainment channels that Sirius XM has are worth more.
When compared to the satellite only or the Internet only service offered by Sirius XM, the $2.95 cent premium over Slacker that would be paid satellite radio seems like a steal. Particularly when satellite radio 2.0 delivers their "On Demand" services. The sticky point comes if you consider the combined satellite delivered and Internet delivered Sirius XM (at current rates). That cost is about $16 per month, a $6 premium over Slacker, which has added ABC News, ESPN, and comedy to their line-up.
If Sirius XM were to raise prices by $2 across the board we would be looking at $15 for satellite only, $15 for Internet only, and $20 for the combined satellite/Internet package. Whether Sirius XM, with 2.0 and a price increase, is worth $10 more per month is the burning question. I can see value at $5 with 2.0, but beyond that is anyone's guess.
Slacker's CEO Jim Cady sees Slacker as being closer to satellite than other Internet radio services and states, "it's no secret why Sirius has been able to sign up 20 million-plus subscribers for its satellite radio service. For some people, having complete control of the cloud is important. But most people just want to pick something and play.
Slacker currently has about 25 million listeners and the boast several hundred thousand paying subscribers while its paying subscribers. The company adds about 2,000 paying subscribers each week, demonstrating the shift to the subscription model.
Position - Long Sirius XM Radio