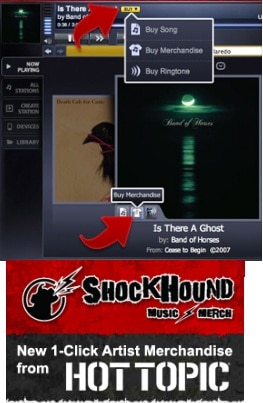 Slacker has worked out a relationship with music related merchandise specialist ShockHound that gives Slacker users and subscribers instant access to collectibles, CD's, DVD's, t_shirts and more. The ShockHound service is fully integrated with Slacker, and allows instant access to merchandise geared toward the artist you are listening to at the moment.
As people contemplate whether the Internet business model will work, services like Slacker and Pandora are actively working on solutions to garner revenue from sources other than advertising. In the case of Slacker, their $4.99 per month premium service allows users to avoid commercials, have unlimited skipping of songs, have access to content such as ABC news and more. The company is also working will cell carriers to have Slacker pre-loaded onto the phone, which ensures added exposure to the service.
Most of the features that deliver exposure and revenue are part of the apps that Internet radio seems to be favoring as their method to gain exposure to consumers. The ShockHound service delivers consumer benefit as well as the ability for Slacker to get a piece of the revenue. It takes "tagging" a song to a new level. Added features such as this should be something Sirius XM takes a serious look at. These services do not even require new technology such as Satellite radio 2.0 anticipated for launch about a year from now.
Position - Long Sirius XM Radio