Slacker continued to set itself apart from the online radio competition today by launching two new customizable "Lifestyle" talk stations.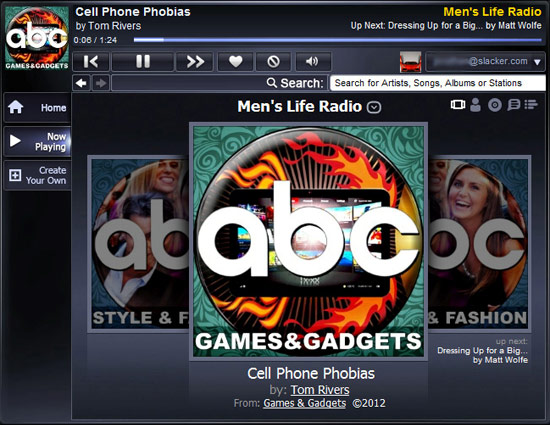 In partnering with ABC Radio, Slacker now offers listeners exclusive original talk radio targeted to the interests of both men and women, from sources like Esquire, Car & Driver, Consumer Reports, Popular Mechanics, Complex Magazine and GQ.
The new stations dubbed, Men's Life and Women's Life, will be available to all levels of users, while Plus and Premium members will have the opportunity to got a step further and hand pick only the topics they find most interesting.
"No other radio service is providing access to content like this, and it is important to us that these stations include the option to customize based on the topics each listener finds most interesting," said Jonathan Sasse, senior VP of marketing at Slacker.
The Men's Life channel features stories about Games & Gadgets, Cars & Gear, and Home Improvement while the Women's Life channel covers Hair & Beauty, Home Living, and Parenting.
In addition, both channels will feature gender targeted stories about Health & Fitness, Food & Drink, Style & Fashion, Travel & Adventure, Tech, Money, Relationships, Green Living, and Entertainment.
"We curate this content to make it unique but ultimately Slacker listeners drive their own experience since they can skip stories within each channel just as they do now with songs," said Steve Jones, VP and GM, ABC News Radio.
It's not just the millions of songs the competition should be worried about anymore, it's the growing lineup of non-music premium channels from ESPN news, ABC news and the myriad content from ABC's Lifestyle talk stations that are really setting Slacker apart.