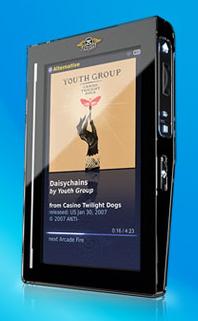 Slacker is now taking the next step in what has been a much anticipated release. The Slacker Portable Radio Player is now available for preorder. Consumers have three choices of players ranging from $199.99 to $299.99. The least expensive model gives consumers access to 15 radio stations, while a mid range offers 25 stations and upper end grabs you a slick 40 station line-up.
Slackers basic plan is free of charge, which will help remove some of the sting of the hardware price. The service will be advertising supported, meaning you will hear targeted advertising on the radio stations. Basic subscriptions will also have limited skips (skip up to 6 songs per hour). Consumers who do not want advertising and want unlimited ability to skip songs can get the premium service for a price of $7.50 per month. Premium users can also save their favorite songs for replay whenever they desire.
The portable player, featuring a 10 hour battery life, will play both from your library as well as by satellite (when the car kit becomes available).
It is unclear whether the portable player will be readily available in time for the holidays, but getting to the point of preorder is a big step for the company. Mass retail in stores such as Best Buy, Crutchfield, etc. have given no indication that they will have players on their shelves.
Interested readers can learn more by visiting Slacker on the web.