The eagle eyes over at Digital Radio Central spotted an interesting Crutchfield ad which promises a new feature for the XM SkyDock. According to Crutchfield, and other sources who confirmed it, a pause and rewind feature will be added to the XM SkyDock any day now.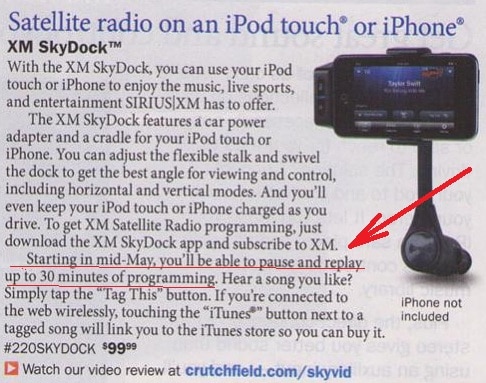 This is tremendous news for subscribers who use the SkyDock in conjunction with the iPod Touch or iPhone. Pause and rewind is the one feature I miss ever since I switched to the SkyDock from my Stiletto. There are many times that I want to rewind and catch something that I just heard, or get interrupted with a phone call in the middle of something compelling.
The Crutchfield ad states, "Starting in mid-May, you'll be able to pause and replay up to 30 minutes of programming."
While the ad does not state it, this is likely an update to the app, and will rely on storage space on your device to accomplish pausing and rewinding. For me, it is well worth it. SkyDock users will likely need to update their app through the apple App store online. SiriusBuzz will keep you posted as to when the new feature and app update will be available.
Position - Long Sirius XM Radio