Looking at SiriusXM's recent trading makes it difficult at best to pick a near term direction.  The mid and long term are easy to call, but this near term is getting more tricky by the day!  The equity spends most of its day trading and testing $2.75, but then carries little pops up toward $2.80 as well.  Neither side is winning this battle thus far, which leads me to believe that it will be compelling news, or lack of compelling news that will finally help this stock pick a direction.  This is the second consecutive "painted" close.  A painted close is when the equity makes a pop or dip right at the close that is not indicative of the days actions.
By the way, check out the posts here.  E-mail notifications are up and running!
Volume 
SiriusXM is trading a range on average volume.  It is not really mounting any real tests up or down.  It is simply existing within the market at this point.  What this means is that the equity has a certain "happiness" to trade here.  The problem is that the happiness can not last forever, and some sort of move needs to happen.  What I saw today was a stock that is to fearful to test below $2.75, yet to lacks the courage to step up beyond $2.80.

The key volume here in the short term is 75 million shares.  That is the average on short term volume, and thus, is likely what will be needed to pass any level (up or down) with some conviction.  What we are seeing is quasi complacency.  That will not last long.  The question is what will happen next.  Tough call.  Over the past several updates I have been saying that I anticipate a dip to the mid $2.60's with a possible filling of the gap at $2.58.  That theory is based on testing the 20 day moving average at a minimum, and then possible test of the 50 day.  What we need to bear in mind is that these averages are moving up.  The key here is not what I say today, but rather what transpires in the market over the next couple of days.  What I can offer is a hint at what to look for.  It is the level of volume at the key areas of $2.70, $2.75, and $2.80.  Today the company held the lines, and we now have two days of lower than recent volume (but still average volume overall).
Support and Resistance
I have made a few adjustments to support and resistance.  I have added a resistance level at $2.85, which has been established because it appears that it could be the next established level withing the week.  I have shifted the battleground up from the mid $2.60's to $2.70 as a base.  This is indicative that there is a very real possibility that any test below $2.75 may not take us down to the mid $2.60's, and if it does, I believe it will be short lived in that range.  If I had to place odds on getting to $2.65 this week based on today's action I would say 30%.  If I had to place odds on getting to $2.70 based on today I would say 50%.  If I had to place odds on getting to $2.85 based on today I would say 20%.  Tomorrow, and more specifically the action in the first 2 hours tomorrow will tell us a lot more.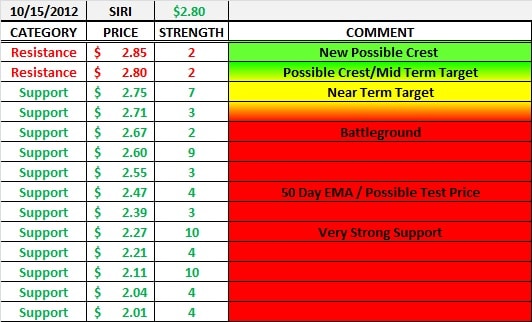 As stated above, we want to watch the first couple of hours carefully.  It should help us determine whether the 20 day average gets tested this week.  I still see a dip of some sort, it is just a question of whether it is the 13 day average at $2.68 or so, or the 20 day average at $2.64.  If you are an active trader and looking to make a trade, be aware that the equity can turn and bounce or retrace just prior such levels.
Exponential Moving Averages - EMA's 
Looking at the EMA's, I see that while a healthy gap exists between the 5, 13, and 20 day averages, that there will be a time here where these start to bunch up.  The only way to build that gap is closes above $2.75.  If this equity closes above $2.75 tomorrow, it will start to coil and tighten up.  This is very important for active traders.  This equity, when it uncoils, looks to be ready to do it to the upside based on the action Friday and today.  It will take tomorrows action to give more confirmation on that thought.  Tuesday and Wednesday are KEY.  As stated, any dip below $2.75 should bring those on the sidelines an opportunity to pull the proverbial trigger.  If I were a trader I would be cautious about trying to see the full pullback to the 20 day.  Simply stated, while I see that happening, there is compelling technical reasons why this equity will try to run.

Watch for trading in the battleground range and if there is any strength or conviction behind it.  I have a distinct feeling that the street is anticipating a share buyback announcement at the Q3 call, and that will be a positive force.  I have an article pending on Seeking Alpha that discusses this, and will elaborate more on that here for Premium members.