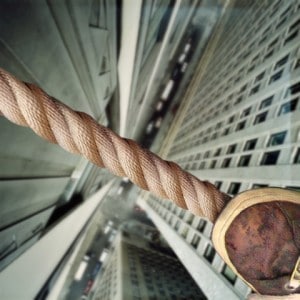 If ever there was an equity dancing on the line of technical indicators it is SiriusXM (NASDAQ:SIRI).  The company seems to do just enough these days to keep its head above the proverbial level of what could be the beginning of a reversal.  Don't get me wrong, I am happy that the company is able to hold the line, but seeing all of these caution signals can get tiresome!
Volume
Once again SiriusXM is exhibiting very low volume.  Today saw just 22 million shares change hands!  Very interesting considering all of the news and action surrounding this company.  Weak volume means that there is not conviction in a move, or that we might be consolidating.  My warning has been to watch volume closely and how any particular volume correlates to other technical events.
It would appear that consolidation is indeed in order and that even with news that is not really news (i.e. police pension fund lawsuit on the negative side and 50 millionth OEM install on the positive side) this equity is in drift mode.  Here is what I see.  SiriusXM will drift until there is something compelling to drive it again.  The tendency when drifting is to drift downward.  Watch the volume on this drifting to see if it begins to snowball.  That will be your first indicator that various support levels might be tested.  One key is that the 5 day average volume is now below the 200 day average volume.

Support & Resistance
The story here is getting more interesting by the day!  SiriusXM is sitting right at a critical level of $2.56.  It tested below that and quickly came back above.  There is very little support until $2.40 to the downside, and minimal resistance above.  This stock is going to need to pick a direction and move at some point.  Watch closely, because the driver will likely be news surrounding Liberty Media (NASDAQ:LMCA).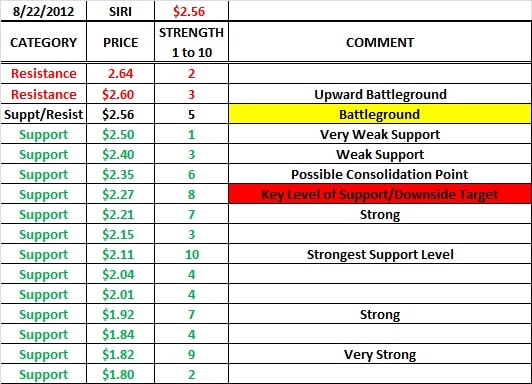 Tomorrow will be yet another test.  Can SiriusXM hold the line at $2.56, or will the caution flags we have been seeing come to bear?  It is actually a tough call.  As I said yesterday, and reiterated today this equity could be in a drift mode, which has me erring on the side of caution.
Exponential Moving Averages (EMA's)
A astute observer of the EMA's will notice something others have not.  It demonstrates exactly why keeping regularly updated on technicals is so important.  If you simply look at the EMA chart below it looks great and shows that all is well and bullish.  If you take a few minutes to compare it to the previous reports I have issued you will notice something very important.  The gap between each EMA level is lessening.  What does this mean?
It means that the levels, while still bullish, are weakening.  The gap between the 5 day and 13 day averages is now down to 8 cents.  Yesterday it was 9 cents.  On the report prior to that it was 11 cents.   While there will certainly be some saying, "Spencer has been cautioning us for a week and a half now and he is crazy", the numbers do not lie.  This equity is beginning to show signs of weakness.  It does not mean it will tumble, and it does not mean that the overall prospects are not bullish.  It simply means that the equity could be taking a breather.  SiriusXM sprinted up to $2.60.  Now it is in a bit of a cool down.  That is healthy behavior!
From an EMA standpoint the importance is keeping the levels in tact.  That would start with SiriusXM keeping above $2.55 in tomorrows action.  One thing to remember is that even another close of $2.56 will hold back the gaps from narrowing.  We are seeing the early signs of weakness here.  Just keep it in mind and have your strategy ready.
Summary
I know it will not be popular, but caution is the word of the day.  SiriusXM is walking the proverbial technical tightrope and it takes a fine balance to keep this ball rolling.  The key on volume is getting it back above 50 million on a move.  The key with support and resistance is either holding $2.56 and adding strength there, or drifting toward $2.50.  The key on EMA's is $2.56.  Watch closely.