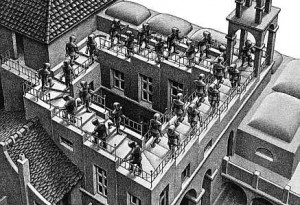 Very interesting day in the world of SiriusXM.  Very interesting indeed!  The company started out the day moving down on low volume...A good sign...Then it rebounded and came back up on good volume...Another  good Sign.  Then it popped up from $2.48 to $2.52 in a heartbeat...HMMMM.  We then saw volume expand in a big way as the equity traded in a tight range all afternoon...Double HMMM.  It is days like this that the stock market can drive you crazy!  Somewhere in the back of my head, I begin to see visions of Liberty Media hitting the buy button again.  Unfortunately we will not know until a day or two from now.  Liberty has been quite adept at playing the technicals though, so I am not surprised.
Volume
What do we make of this?  Well, there are actually two considerations.  One if Liberty is in the market and another if they are not.  Before moving on, let's rewind a bit.  On the move up from $2.33 it seemed that Liberty was absent.  That gave the move some real technical merit.  Essentially there is a technical reason for SiriusXM to have run up to $2.57.  There was also a technical reason for the equity to retrace as it did, down to $2.44.  The question is whether or not Liberty jumped into this or not.

I always say that volume carries meaning.  Even if Liberty was in, there was a substantial chunk of today's volume that was over $2.50.  I also said that we wanted to see SiriusXM topple $2.50 on volume over 72 million shares.  Wouldn't you know it, but SiriusXM comes in with a close right at $2.50 and right at a volume of 72 million shares.  If I had not written it I probably would not believe it!  Check yesterdays article.  At any rate, we now want to see $2.50 hold, or see the equity test $2.55.  We want volume to be above 79 million on a move over $2.55.
Support and Resistance
The support and resistance actually did not change very much, but we do now have resistance back in play in the mid $2.50's and a support level in the upper $2.40's.  Right now SiriusXM is on the great tipping point of $2.50.  To the downside we have weak support at $2.47 followed by moderate support at $2.40.  To the upside we have $2.56 as moderately strong resistance.  In my mind today demonstrated some strength in support at $2.40.  Given that I am anticipating positive news next week, possible entry points are probably at the current level.  The problem is that if you try to get to fancy this equity can turn and move in short order.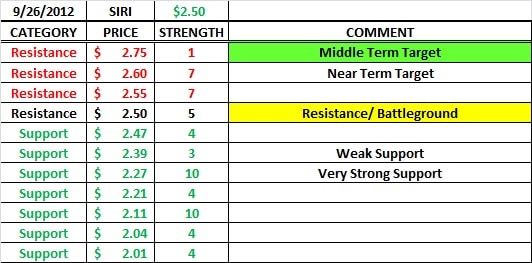 Essentially I think the bullish longer term outlook is taking shape.  The caution below is moving below $2.47 on any kind of substantial volume.  The signal above is testing $2.56 on volume.  In my opinion $2.55 needs to be broken with about 79 or 80 million shares.   Watch closely.
Exponential Moving Averages - EMA's
These all went very bullish today.  We have green across the board.  That is the easy part.  The hard part is that the ranges are still coiled tight.  Again, the story is that this equity WANTS to move.  It NEEDS to move.  It can not remain coiled for a long period.  Things simply do not work that way.  Look at the chart and you can see how tight things are!

Here is the upside and downside.  To the upside, we want this equity to see a close of at least $2.54.  That would provide some breathing room in the averages.  To the downside, if this equity closes at $2.48, we will see warning flags appear.  That is how tight things are.  If you are able to, always look at the volume in conjunction with the price.  It will give you a good idea of the strength there.  For example, if we are a couple of hours into the day and SIRI is at $2.47 on 6 million shares traded, the move down is weak.
Summary
We can not ignore that SiriusXM passed (and then closed at) a key technical level on high volume.  The next two days could see some action, but my opinion is that the real action will be next week when I anticipate Mel announcing subscriber numbers and new subscriber guidance.