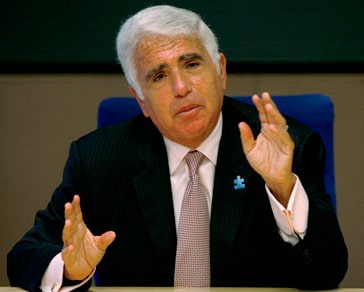 Yesterday's news that SiriusXM CEO Mel Karmazin is stepping down was somewhat of a surprise.  The fact that he may leave was not the surprise, but rather the timing of the announcement and the fact that a transition period has already been identified.  Effective February 1, 2013, Karmazin's tenure at SiriusXM will be done.  Quite likely this means that the Q3 conference call on October 30th will be his last as CEO of the satellite radio provider.
The SiriusXM Board has headed up a search committee for a new CEO.  That committee is headed by Liberty Media's Greg Maffei.  If there was any doubt that Liberty was in control of SiriusXM, it should now be removed.  We now have the waiting game to see who will replace the iconic radio figure. While this is a cloud of uncertainty regarding SiriusXM, the news does not really change the dynamics of the business model nor how well we expect the company to do in the coming months and years.
From within SiriusXM there is a possible candidate for CEO in David Frear.  Liberty Media has stated in the past that there is great management within the company already, perhaps a broad based hint that Liberty may consider such a move.  What is certain is that any CEO that is named will take the job knowing that he or she will be under the thumb of Liberty Media for at least a couple of years.
Over his term Karmazin had his praises sung a lot by Wall Street.  There is little doubt that Karmazin can be very good for the stock side of the business.  The consumer side did however seem to take a back seat on many occasions  and while investors appreciated that in the short term, such actions can impact the longer term.  Liberty's John Malone had stated in the past that Karmazin was more short term in his thinking and that he would like to see the company expand its presence, develop and roll out  its R&D, and perhaps even expand beyond the borders of North America.  Those are longer term agendas, and it will be interesting to see the track the company takes as it shifts into a new era under a new CEO.
In my mind a new CEO is probably about a month or so from being announced.  With Karmazin staying an extra month as CEO, it looks clear that the search for a new CEO is not an endeavor that will take months, but instead weeks.  Certainly the possibility of Karmazin leaving has been a distinct possibility for quite some time, so you can rest assured that Liberty has already been considering that possibility and has candidates in mind.
I look for this news to be absorbed into the market in relatively short order, and for the stock to now take a breather as we approach earnings.  The next key is getting 2013 guidance and hopefully establishing a share buyback program.  The upcoming call will also be about ensuring the street that the SiriusXM story will continue and with even more strength.  Stay Tuned.